My Cyndi's Secrets » All » Paul Mitchell Schools FUNraiser – All in the "Family"!
Welcome to My Cyndi's Secrets™

Embrace a joy of life -.Joie de vivre
Be the Personal Best YOU Can Be! Ooo la la!
Shhhh! My Cyndi's Secrets!
My Dear Friends,
It's always heartwarming to see big names using their celebrity status for an important cause at a Hollywood event.  Plus – I do love a good party and I know many of you like it when I give you the dish on famous and interesting people who exude a giving spirit of JOY! So naturally it was a delight to attend and to cover the Paul Mitchell Schools 11th annual charity FUNraiser at the Beverly Hilton in Beverly Hills, CA. However, something was very different about this gala. Oh sure I got to hob-nob with Magic Johnson, Fran Drescher, Marie Osmond and other awesome stars. That certainly was cool, but I can't stop thinking about one word that describes an even bigger standout impression of the evening. I'm talking about "FAMILY" – The Paul Mitchell Schools "family" to be exact.
Your little Cyndi Sleuth was there…………….Psssssst! Come with me!
Let me share My Cyndi's Secrets!™ (New easy comment box at the bottom – feel free to leave your feedback)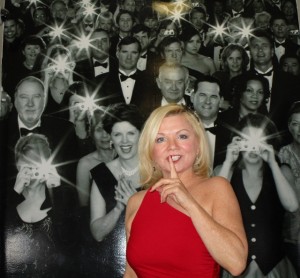 After three months and literally thousands of hair shows, casual days, cut-a-thons, and "FUNraisers", more than 13,000 cosmetology students from 110 Paul Mitchell Schools raised a whopping 2.1 million dollars for 11 selected charities bringing their 11 year total to more than $13.3 million. Wow!
This was not the usual Hollywood "wealthy elite" ready to open their check book, write an undisclosed large amount and eat rubber chicken crowd.  Uh uh! This was a group of every day cosmetology students changing the world one cut-a-thon at a time. The Paul Mitchell culture expounds the importance of "FAMILY" and caring for others. I saw that family firsthand. I was struck by the genuine passion and vivacious energy that infiltrated the room. Everybody was so warm, welcoming, fun and yes – caring! I would be remiss not to mention that it's a pretty good looking family too.Paul Mitchell is after all, a "beauty" school. 🙂
The annual FUNraising gala was hosted by actress, producer and cancer activist Fran Drescher along with Paul Mitchell Schools Dean and Cofounder Winn Claybaugh.  Here is a picture of Fran and Winn.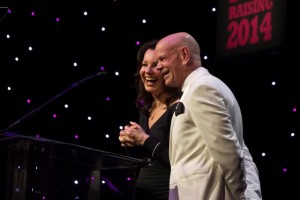 Speaking on behalf of the 11 supported charities were Magic Johnson (Magic Johnson Foundation), John Paul DeJoria (Food 4 Africa), Danny Trejo (ELSA), Ricky and Andrea Schroder (Wells of Hope), Marie Osmond (Children's Miracle Network Hospitals), Sara Rue (CAST), Kathy Buckley (No Limits), and Fran Drescher (Cancer Schmancer)
In the photo below are (L-R) Kathy Buckley, Jo Anne Worley, Ricky Schroder, Andrea Schroder, Magic Johnson, Fran Drescher, Sara Rue, Marie Osmond, Winn Claybaugh. They proudly hold up the evenings "big" check!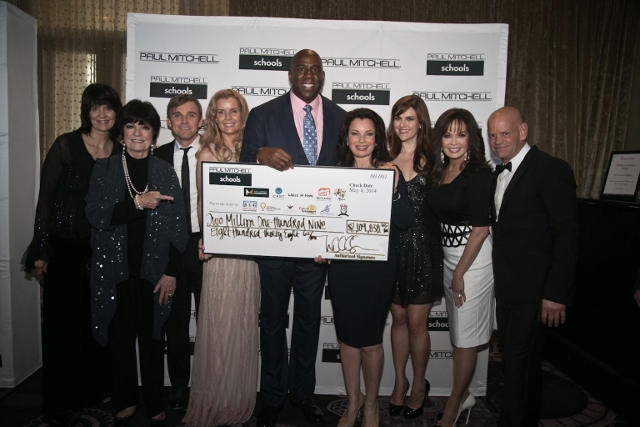 The evening had an impressive lineup of celebrities but the real stars of the night are known around Paul Mitchell Campuses as the "FIRST 100". That refers to the winners of the annual "First 100" contest who are recognized for raising at least $3,000 individually. These 100 hard working students and staff members attended the Gala plus a hands-on training the following day with beauty industry award winner Vivienne Mackinder and Cao Cosmetics.
According to Winn Claybaugh, "It is not the kindness of our hearts that provides the support that our charity partners require; it is dollars. I am so proud of our Paul Mitchell Future Professionals for walking the walk, doing the heavy lifting and doing more than just hoping for the best for those in need."
I have to add here that Winn is deeply loved and respected by the entire Paul Mitchell family. Perhaps it's because he too walks the walk.  He inspires everyone he meets and expounds on the importance of working together as a family. Winn is also the author of the bestselling book Be Nice (Or Else!), which outlines the culture and philosophy practiced by every Paul Mitchell School. www.beniceorelse.com
Please enjoy my following interview with Winn so that you can get a glimpse of why he is a treasure to so many in his life.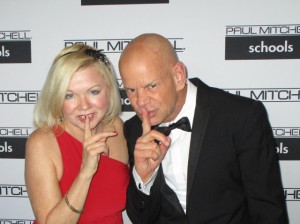 Basketball legend Earvin "Magic" Johnson was speaking on behalf of the Magic Johnson Foundation which supports educational empowerment through HIV/AIDS awareness, college access, and digital literacy. He described the work that the foundation will be able to perform thanks to the generous donation from Paul Mitchell Schools. Of course the crowd went silent when Magic stated, "The question is, am I going to buy the Clippers? If I do, you're going to be the first to know!" A very attentive audience responded with loud clapping and laughter. Be sure to click the video link below for my fun one-on-one interview with fellow and former Michigander Magic Johnson. For more info about Magic and his organization check out Magicjohnson.org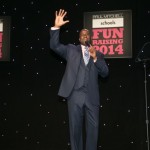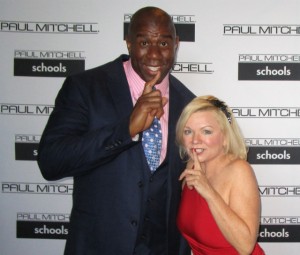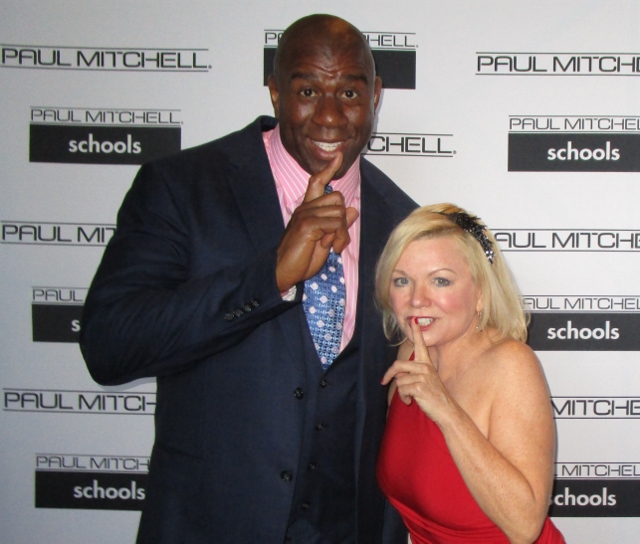 The name Fran Drescher is synonymous with "Party" host. She entertained the audience while representing the organization she founded. It's called the Cancer Schmancer Movement and is an education advocacy organization dedicated to saving lives through prevention and early detection of cancer.
Click the following video link and find out what Fran always takes with her when she travels. My Cyndi's Secrets – Shhhh! (cancerschmancer.org)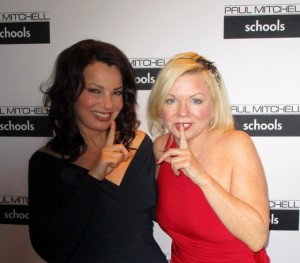 One of my favorite interviews of the night was with John Paul DeJoria. You have seen him in numerous Paul Mitchell ads along with his lovely wife Eloise and family.  Many people mistakenly think he is Paul Mitchell.  However, Paul Mitchell, who was a Scottish and an American hairstylist along with John Paul DeJoria actually co-founded the hair care product company called John Paul Mitchell Systems in 1980.  Unfortunately, Paul Mitchell passed on in 1989 with pancreatic cancer. Here is a shot of John Paul DeJoria at the gala.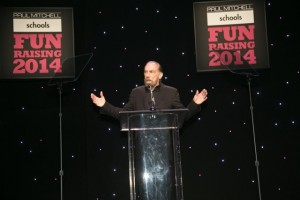 As the Paul Mitchell products co-founder and chairman, John Paul DeJoria has recommended several charitable organizations for the FUNraising campaign.  Be inspired by this interesting interview with DeJoria. He may be a billionaire businessman and philanthropist but he is one of the most down to earth, fun and interesting interviews I have ever met – a true rags to riches story that gives us all hope for a better future.  Click the link: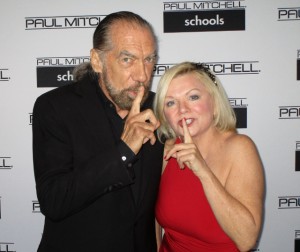 Another highlight of the event was meeting and chatting with the forever positive and super talented Marie Osmond.  Marie co-founded the Children's Miracle Network Hospitals. Since 2010, Paul Mitchell Schools have donated $1 million to the organization. She told the crowd, "Because of you…. It's a dollar at a time, a heart at a time…. I've never known such generous people. Thank you on behalf of Children's Miracle Network Hospitals."  (cmnhospitals.org )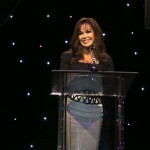 Please enjoy this fun and touching interview with the beautiful Marie. Click the video: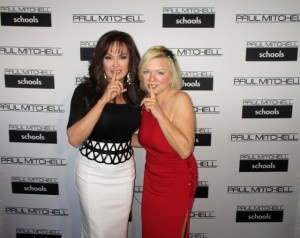 As a journalist who has an underlying mission to share JOY worldwide, I am always touched by couples that I interview together who are "really" a couple! I'm talking about the cute couples that obviously are best friends that truly "like" and support each other. Meet Ricky and Andrea Schroder. You know him from "Silverspoons, Lonesome Dove and 24" to name a few. You know Andrea from the Hallmark Channel's Home and Family show. She also has a successful line of candles under her name. Each one elicits her trademarked, "Poetry of Fragrance"! Together Ricky and Andrea work on their charity called Wells of Hope. This organization is committed to responding to the cry of the poor and helping them attain the basic necessities of clean water education, and basic health.  (wellsofhope.com)
Click this video link to hear about their charity and to discover the cute way Ricky and Andrea met as well as Andrea's early premonition. ….. so romantic! 🙂 Shhhh!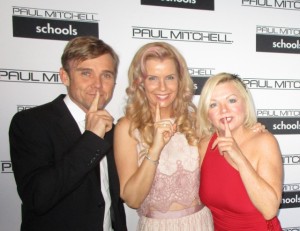 Following is a shot of Ricky and Andrea Schroder along with actor Danny Trejo (Heat, Con Air). Danny represents ELSA (Experience Learning Support with Animals). This organization builds confidence, sensory awareness, and social skills in special-needs children, teens, adults, and families through the benefits of the human-animal interaction in the ranch setting. (elsaninc.org )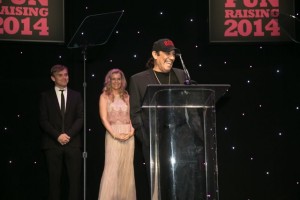 Beautiful actress Sara Rue (Less than Perfect, Popular) was a delight to interview. She represents CAST (Coalition to Abolish Slavery and Trafficking) This organization aims to assist persons trafficked for the purpose of forced labor and slavery-like practices and to work toward ending all instances of such human rights violations. (castle.org)  Here is a shot of Sara inspiring the crowd.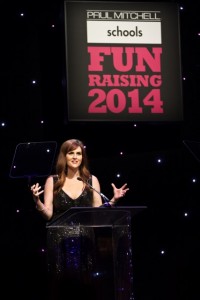 Click the video for my interview with this beautiful young and caring talent.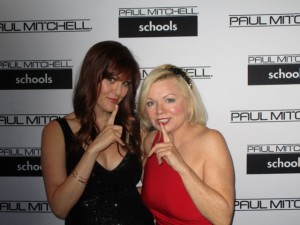 Comedienne and motivational speaker Kathy Buckley lit up the stage at the gala. She represents No Limits. This organization offers a one-of-a-kind national theatre group and an after-school educational program that enhances confidence and communication skills for low-income deaf children while providing underserved deaf children with the leadership and academic skills to be college ready. (kidswithnolimits.org)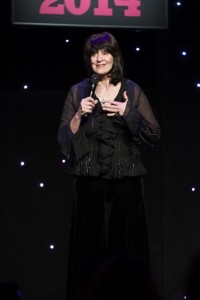 Entertainment for the evening was provided by award-winning husband and wife jazz duo Tuck and Patti. It was really cool to chat with these super talented love birds at the cocktail reception before the event. Here is a shot of them performing followed by my interview: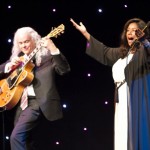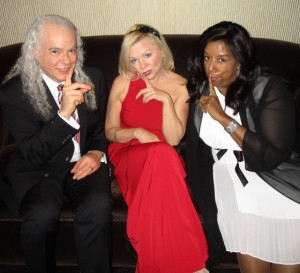 Jo Anne Worley (Rowan & Martin's Laugh-in) always wows a crowd. This audience sure loved her but then what's new? I've interviewed Jo Anne on more than one occasion and she is always a hoot! Click the video: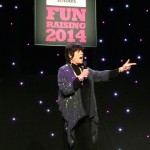 Following are a few overview shots of the crowd and stage. It truly was both a heartwarming as well as a glamorous gala.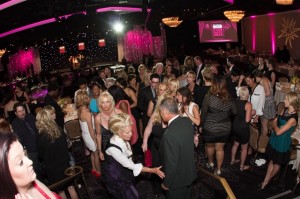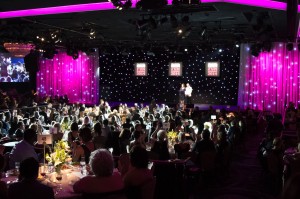 Here is a pic of the evenings true stars – the First 100 who raised $3,000. individually! Woot! Woot!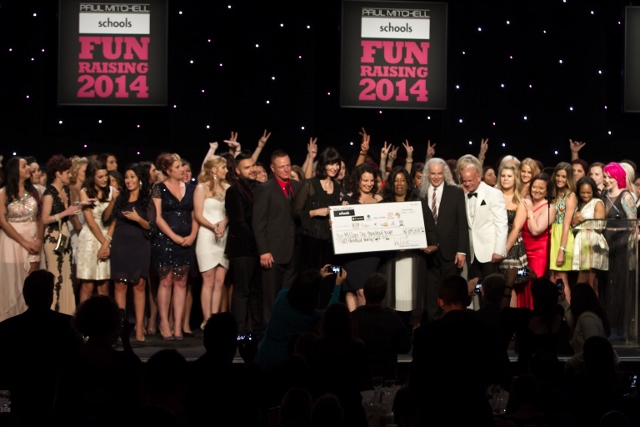 In the last several months I have learned a lot about the Paul Mitchell Schools. In fact, I was invited to be a guest artist speaker at the Sherman Oaks, CA school for both the day and night classes. I spoke about body image and self esteem and how nobody has a perfect life.  The outpouring of warmth and genuine interest in what I had to say touched my heart.  Paul Mitchell Schools has an environment that is structured so that education is an adventure and the learning experience is fun! The instructors, called "learning leaders" – are trained to draw out the artist in every student and prepare them to compete in the real world. Through the annual FUNraising campaign, they have raised and donated millions of dollars in support of many charitable causes. They have built homes with Habitat for Humanity, fed thousands of African orphans, and supported the victims of AIDS, breast cancer, homelessness, abuse and hundreds of other causes.
Established 30 years ago, the Paul Mitchell network is nearly 100,000 salons strong and in 81 countries worldwide; every professional hairdresser knows the Paul Mitchell name. For more information visit www.PaulMitchell.edu 
As this column comes to a close I wanted to share my favorite "awwww" shot of this event. That goes to Winn Claybaugh and his adorable daughter Sofia. I am reminded of the one word that keeps ringing in my ear about Paul Mitchell Schools…… and that one word is truly the foundation of any group of people that care about each other and unselfishly give to those in need. That my dear friends is what it is all about…..and that one word is FAMILY!!!! 🙂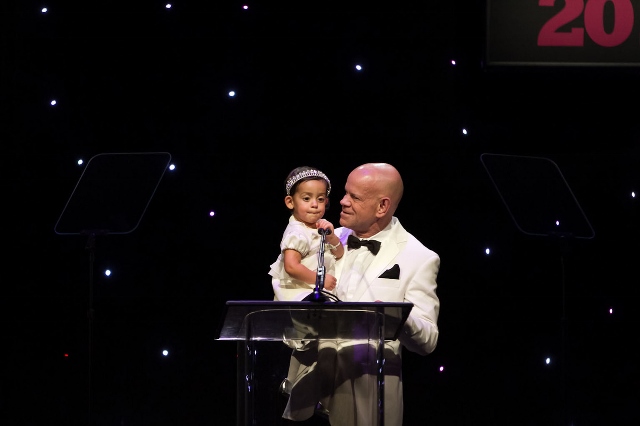 And until next time……….Strut your stuff on the red carpet of life! Shhhh!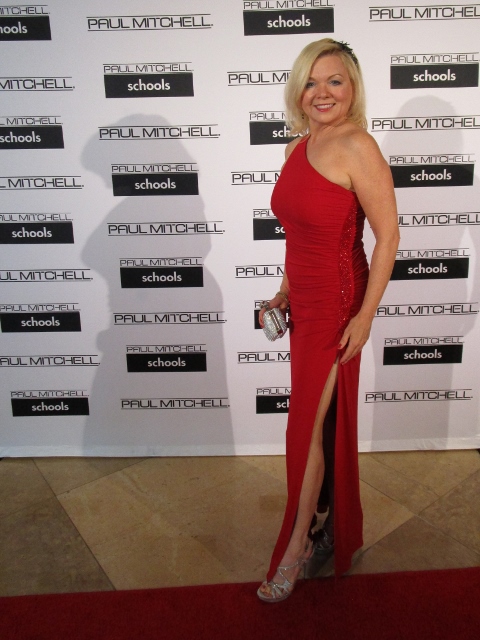 Life is too short so I say – InJOY!
Cyndi Targosz

Copyright  2014 STARGLOW Productions, Inc.
Filed under: All · Tags: clippers, Cyndi Targosz, Fran Drescher, Magic Johnson, Marie osmond, Paul Mitchell's Schools, Sara Rue