My Cyndi's Secrets » All, Interviews » Star Studded Movieguide Awards- Roma Downey, Duck Dynasty, Richie Sambora & more..
Welcome to My Cyndi's Secrets™

Embrace a joy of life -.Joie de vivre
Be the Personal Best YOU Can Be! Ooo la la!
Shhhh! My Cyndi's Secrets!
My Dear Friends,
I am so pleased to share my behind the scenes scoop from this year's Movieguide Awards. Enjoy my red carpet interviews and back stage coverage. I invite you to also tune in to the REELZ TV channel today Saturday March 1, 2014 at 2pm ET, Sunday March 2nd at 2pm ET and Monday March 3 at 10:30pm ET where you can enjoy the entire inspirational awards show. "My Cyndi's Secrets – Shhhh!™"
The My Cyndi's Secrets infotainment report includes an eclectic mix of Hollywood entertainment, sports, cool events, self help tips and a lot of FUN – that's infotainment! Our mission is to share JOY worldwide!
Pssssst! Come with me! ……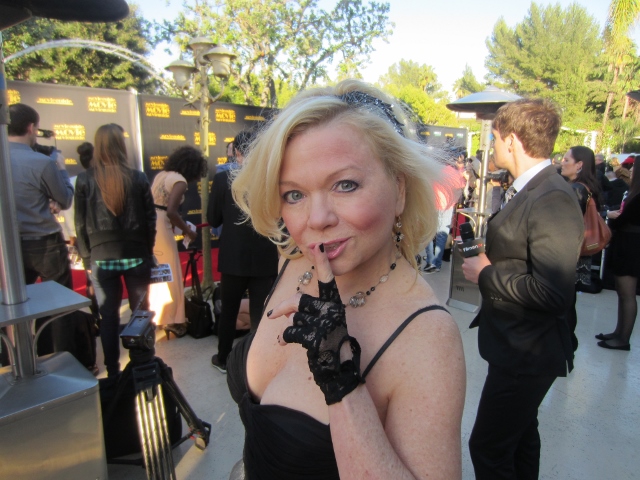 (photos and video by Gator unless otherwise noted)
 Here in Hollywood we are in the midst of the awards season. There's everything from the Grammys, the SAG Awards, the BE Magazine Beauty Maker of the Year Awards to the Directors Guild Awards & the list goes on and on. Of course I can't forget to mention the grand daddy of them all – the Academy Awards. (Your Cyndi sleuth will cover the red carpet this Sunday). However, there is one award gala that stands out in the industry as a beacon of positive energy and spiritual JOY.  I'm referring to the Movieguide Awards which I recently had the privilege to attend.  The Movieguide Awards are not just any award show. Oh sure – the event is filled with all the glamour and glitz of a celebrity star studded affair. Admittedly I thoroughly enjoy these chi-chi festivities. However, if you look a little deeper you can see and feel an aura of goodness that surrounds the Movieguide Awards. It's a comforting warm welcome during these tumultuous times.
 Movieguide is a non-profit organization founded by its publisher Dr. Ted Baehr. It provides families with a guide to quality movies and entertainment. The awards banquet recognizes those in the industry who promote faith and values in entertainment. Now I don't mean boring or fud duddy shows. No way! I'm talking about excellent shows like "Frozen", "Gravity", "ABC TV SHARK TANK" etc. Movieguide demonstrates how successfully these quality shows perform in America and around the world and encourages more quality programming. This includes categories of entertainment for both family and mature audiences. Below is a quote that was printed in the evening's program by Dr. Baehr.
…………"Today, we honor those of you in the entertainment industry, who have demonstrated good business judgment and true artistic sensitivity by listening to the voice of the vast movie going public who seek high moral standards and redemptive values. By using MOVIEGUIDE®'s report to the Entertainment Industry and its intensive analyses of all the major theatrical movies released, you will better understand this vast audience and its concern for faith and values. Furthermore, thanks to MOVIEGUIDE®'s television, radio, Internet, and print outreach, many of these movies reflecting high moral standards and redemptive values are still having a great impact at the box office……….."

 By the looks of Hollywood elite (executives, producers, actors, supporters etc.) that jam packed the star studded ballroom at the Hilton Universal City; we can all rest a little easier knowing that Hollywood truly is listening. JOY will prevail!  And hey – It was FUN! 🙂
Here is a photo of Movieguide founder Dr. Ted Baehr(l) and Howie Simon (r) of Legacy Media Relations.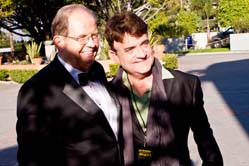 In the next photo is Willie Robertson on the stage followed by a shot of Billy Ray Cyrus performing.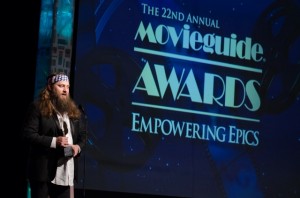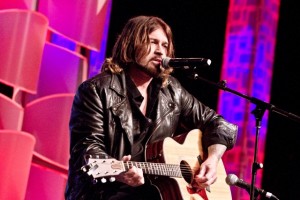 Hope you enjoy this behind the scenes look at Duck Dynasty and Billy Ray Cyrus! Click the link:
I was personally delighted to meet the amazing Roma Downey. She and her husband Mark Burnett are the power couple behind the new movie Son of God and The History Channels, The Bible Series.. Roma of course starred in the huge TV hit , Touched by an Angel.. Hope you enjoy our interview. click the link:
A really fun part of the evening was interviewing the woman who holds the Guinness world record for being the Tallest Actress in the World. Meet the delightful and talented Lindsay Kay Hayward. Check out how much taller she is than me. LOL! click the video link:
The host of the evening was comedian Bill Engvall. Many may remember how wonderful he was in season 17 of ABC's Dancing With the Stars. Besides comedy and dancing Bill discloses his secret passion in our interview. Shhhh! Click the link:
The adorable Elsie Fisher (Despicable Me movie series) is super cute in our interview. Click the link:
The Movieguide Awards took place at the Universal Hilton in Universal City California. I had fun posing for the cam.:) .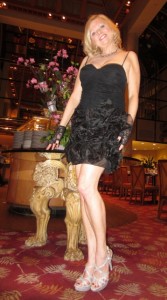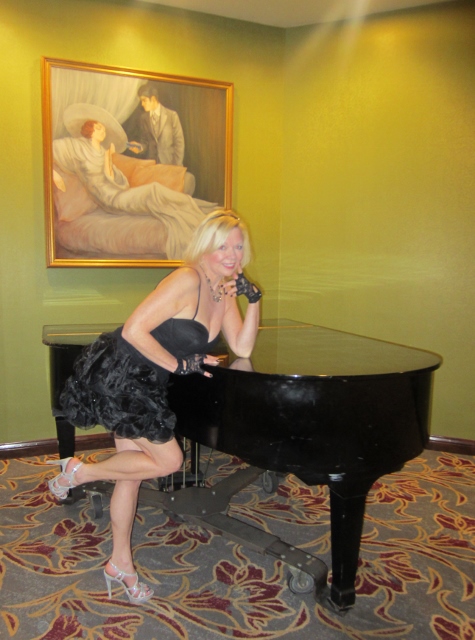 The animated movie FROZEN from Walt Disney company was a big winner of the night. Pictured here are supervising animators, Malcon Pierce (l) and Hyrum Osmand (c)..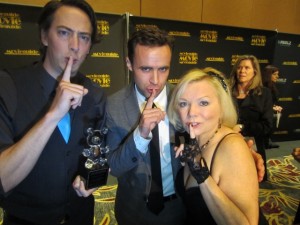 The audience was wowed by a performance by rocker Richie Sambora pictured here.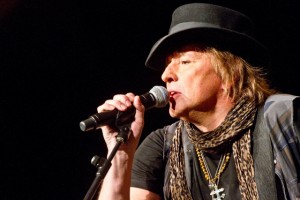 Actor Sterling Jones shares what it was like working on the hit movie Lone Survivor. He also discloses his fearless pastime. Shhhh! Click the link:
I had the pleasure of once again working with the beautiful Evy Baehr (r) pictured here with me. She is the Red Carpet producer and Host.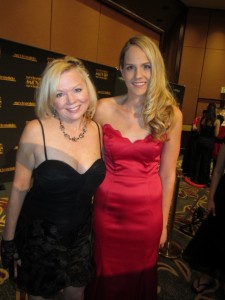 .
Are you a fan of the TV show SHARK TANK? Who isn't? Enjoy my interview with the winning production team from the show. Click the video link:
Fans of 21 Jump Street will enjoy this interview with actress Holly Robinson Peete as well as her husband Rodney Peete. Rodney is a former NFL football player who previously played for my favorite team The Detroit Lions. Shhhh! Click the video link:

Ever wonder what happened to the Doritos Girl from the famous Super Bowl commercial? We caught up with Ali Landry and she still looks gorgeous. Click the LInk:
A crowd favorite was actress Jenn Gotson who played Tricia Nixon in the movie Frost/Nixon. Find out what's next for this talented beauty. Click the video link:
 There were several other awesome celebs that I had the privilege of interviewing including, Corbin Bernsen, Graham Patrick Martin, Kelly Greyson, Kriston Dorn, Kyla Kennedy, Zane Stephens, Charley Koontz, Drew Waters, Erin Bethea, AJ Michalka, Kate LInder Linder, Corey Oliver and the production teams of MONSTERS UNIVERSITY, THE CROODS, OZ THE GREAT AND POWERFUL, TURBO, LINSANITY, GRACE UNPLUGGED etc…  To see all the video interviews please visit and subscribe to my YouTube channel at  http://www.youtube.com/user/CyndiTargosz  Select "Recent Uploads".
By the looks of Hollywood elite (executives, producers, actors, supporters etc.) that jam packed the star studded ballroom at the Hilton Universal City; we can all rest a little easier knowing that Hollywood truly is listening. JOY will prevail!  And hey – It was FUN! 🙂
And until next time!…… Strut your stuff on the red carpet of life!  My Cyndi's Secrets!- Shhhh! 🙂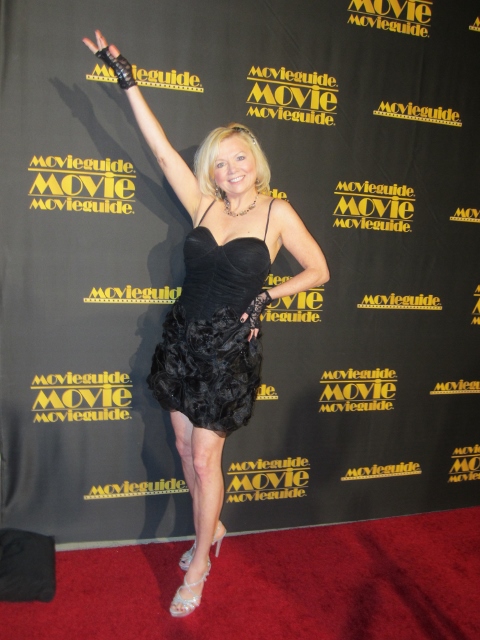 Life is too short so I say – InJOY!
Cyndi Targosz
Copyright 2014 STARGLOW Productions, Inc.
Filed under: All, Interviews · Tags: academy awards, Cyndi Targosz, Duck Dynesty, Entertainment, Mark Burnett, Movieguide awards, Roma Downey, self esteem, Son of God, Ted Baehr, trends