My Cyndi's Secrets » All, Beauty » CJ by Cookie Johnson & "Magic" in the air!
February 18th, 2014 | 9 Comments
Welcome to My Cyndi's Secrets™

Embrace a joy of life -.Joie de vivre
Be the Personal Best YOU Can Be! Ooo la la!
Shhhh! My Cyndi's Secrets!
My Dear Friends,
"Mirror -mirror on the wall, who's the fairest of them all?"  The answer is, "YOU"! That is if you embrace your curvy body, and according to entrepreneur and denim designer Cookie Johnson, "go for your dreams"! Cookie demonstrates a fearless and independent spirit of JOY. She inspires women of all shapes and sizes through her CJ by Cookie Johnson lifestyle brand! Your little Cyndi Sleuth has the scoop…………….Psssssst! Come with me!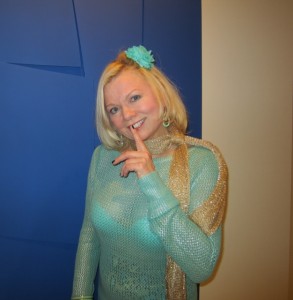 I was delighted to receive "My Cyndi's Secrets – Shhhh!™" special invite to the CJ by Cookie Johnson's five year anniversary party at the Neiman Marcus (Topanga Mall) in Woodland Hills, CA. Though Cookie was aware that the store was hosting a trunk show, she did not know that her friends, family and members of the press would be there to join the fun. It was a complete surprise!! Even her husband Earvin "Magic" Johnson the legendary basketball star and business man was in attendance!
For those of you who are new to Cj by Cookie Johnson, it debuted in the spring of 2009 to fill a void in the denim marketplace. Cookie personally was having difficulty finding denim that fit her body type. OMG – if someone as beautiful and hot as Cookie could not find denim to fit, what does that say for the majority of women with a variety of figure types? Cookie was onto something revolutionary and she was passionate about this cause. Not only did she care about fit but she wanted to create a premium denim line that empowers women. I like the fact that CJ by Cookie Johnson is a "lifestyle" brand providing as Cooke says, "Denim woven with a little bit of self esteem to bring out the inner beauty in all of us." With Cookie's instinct for fashion Cj by Cookie Johnson has indeed filled that void and after five years her brand is successfully embracing real bodies with both fit AND style. "The confidence that a great fitting jean gives women is the most rewarding part of having created Cj" says Johnson.
Meeting the lovely Cookie was not disappointing. She is extremely down to earth. Now her husband is way higher up but that's only because he is much taller. LOL!  Seriously, both Cookie and Magic made me feel so welcome with their warmth. I felt an even greater connection because they are from my home state of Michigan. Midwest roots run deep! Woot! Woot!   In the photo below Cookie Johnson and I pose for the camera at Neiman Marcus (Topanga) followed by a shot of the big guy Magic Johnson and myself.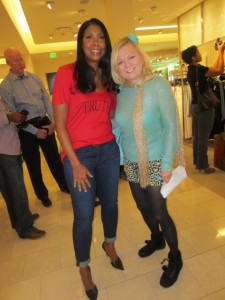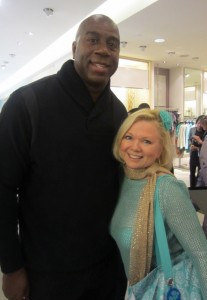 "My Cyndi's Secrets – Shhhh!™" members know that I only gush about the good stuff. You absolutely must check out the CJ brand at Neiman Marcus.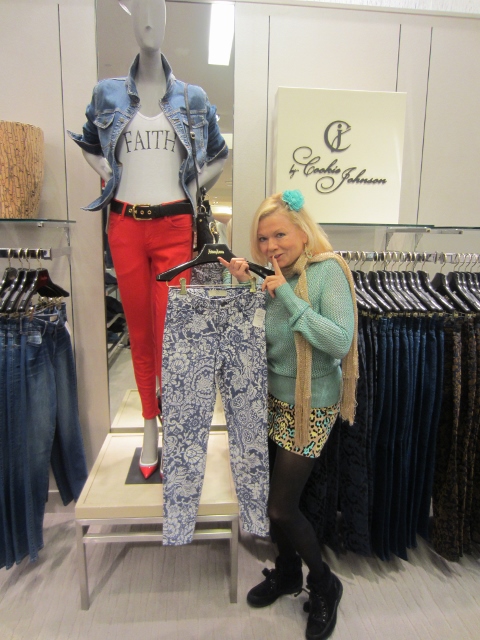 CJ by Cookie Johnson delivers smart, versatile midrise styles to women sizes 24-38 (2-18). The line provides on-trend colors, washes, textures, treatments and prints in a collection that is playful and unique as the "My Cyndi's Secrets – Shhhh!™" member who wears it!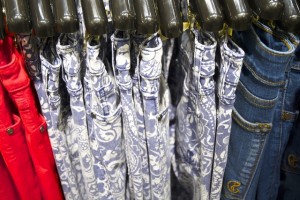 Check out this adorable jean jacket – a highlight of the 2014 Spring Collection.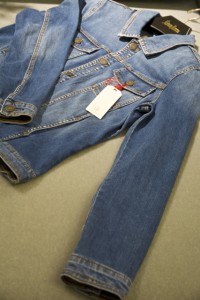 This "Wisdom" Ankle Skinny jean in red paired with a CJ by Cookie Johnson Faith tee and denim jacket is a stylish and practical combo. It can carry women throughout the entire day from – the morning carpool to a busy day at the office to a night out on the town. Now that's "Smart"! 🙂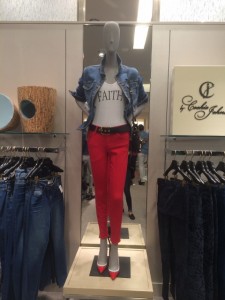 I absolutely have to tell you about Cookie's CHARITY JEAN AND TEE! Purchasing either of these two trending products benefits The Magic Johnson Foundation in support of World AIDS Day. The pieces are meant to evoke the spirit of truth in all of us. Cookie and Magic believe that together we can stop the spread of HIV/AIDS if we all act responsibly. I couldn't agree more – Get the facts, get tested & get involved! Ten dollars from each CHARITY JEAN and two dollars from each CHARITY TEE sold will be donated to The Magic Johnson Foundation, in support of their HIV/AIDS initiative. In this photo cookie and model Susanna pose in the Truth Jean and Tee as well as with the Hope Tee.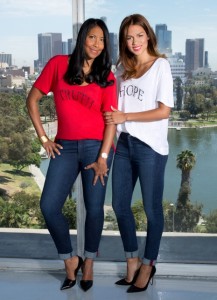 The Truth Jean is on my most wanted list. Check out the cute ankle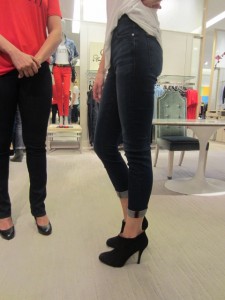 .
Pssssst! – the Lycra makes every woman able to have a "tinier" waist!!! Plus the Truth Jean is for a great cause! Everybody Wins! …And that's the TRUTH!!! 😉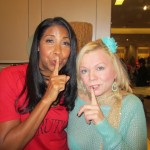 Shhhh! – It's important to note that Cookie did not just slap her name on a brand and take advantage of her famous husband's notoriety. Uh uh! She has a degree from Michigan State in Retailing and has been in fashion her whole life. In fact, she personally financed her company. Please click on the video link below to find out more about Cookie, her brand, her marriage and of course some FUN Cookie and Magic, "My Cyndi's Secrets – Shhhh!™"stuff.  Click the video:
 Following are some fun shots of this cool event. Magic and Cookie look so cute together. Cookie was surprised with an anniversary cake.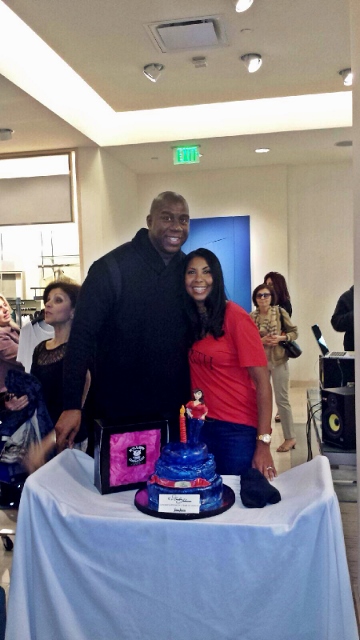 There were treats and beverages: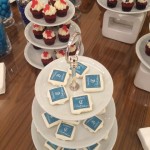 Cookie was touched to be surrounded by family and friends. I had the opportunity to chat with her Dad who couldn't be prouder. Cookie told me that he is 83 years old. After a vibrant conversation – I say 83 years "young".  
A talented DJ, Bobby Zegar who is known as "Mr. West" added to the mix!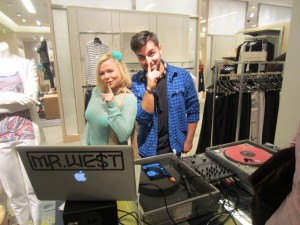 How nice that Neiman Marcus created a floor display to match my wardrobe for the day! Tee hee!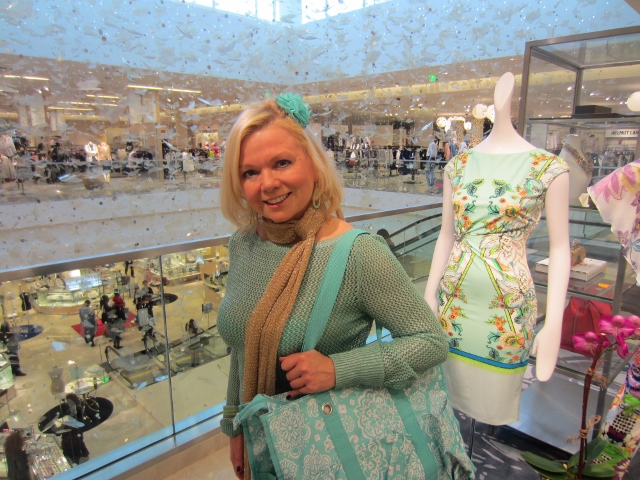 All of the staff at Neiman Marcus (Topanga) are exceptional! Here the General Manager Bob Lugari (r) and Publicity Manager Vicki Raven (l) stop to pose with Magic and Cookie.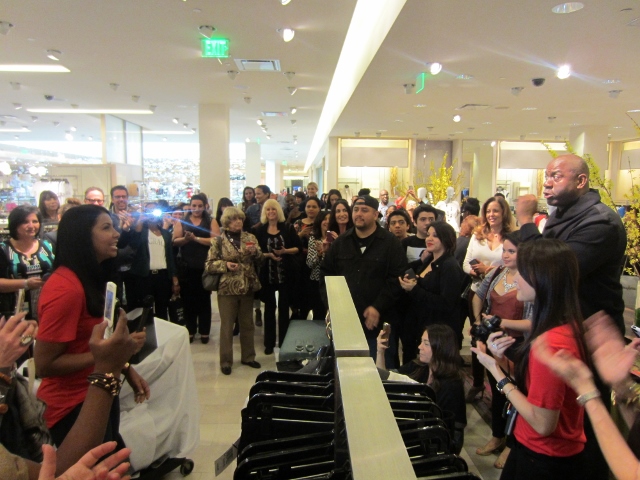 The Crowd LOVED Magic and Cookie!

NOW ABOUT THE PRICE…..If you are a responsible fashionista who likes to find a bargain, you may also wonder about the cost of CJ by Cookie Johnson. I am happy to say that the price ranges between $128.00 and $198.00 which is quite reasonable for a premium brand.  So – here are my Cyndi's Secrets fashion suggestions for all levels of income.
1)      If you are one of our many celebs who follow this page or just want to look like you belong on the red carpet, I say snap up every piece you can in every color. Be sure to give back with a purchase of  the trending CHARITY JEAN AND TEE
2)      Now – I also know that NOT everyone can afford a zillion pairs of jeans. I suggest that rather than buying several pairs of inexpensive jeans that do nothing for your body, "invest" in one pair of quality jeans like CJ by Cookie Johnson that make you look curvy, sexy and great!
3)      If you cannot afford any premium jean brand please BE RESPONSIBLE and do not spend what you do not have. Instead – take Cookies advice and go for your dreams. Perhaps save your money for a quality purchase. This does not make you less of a person.
In fact, none of us should be judged by the brand of jeans we wear. However, CJ by Cookie Johnson doesn't represent a designer brand name but rather a "lifestyle"! Cookie herself is a woman who is feisty, independent, sexy, strong yet feminine! She radiates the "My Cyndi's Secrets – Shhhh!™" spirit of JOY! So weather you wear the jeans or not I am confident that Cookie would agree we all can strive to be our personal best and feel good about ourselves regardless of our jean size!
And until next time……….Strut your stuff on the red carpet of life! Shhhh!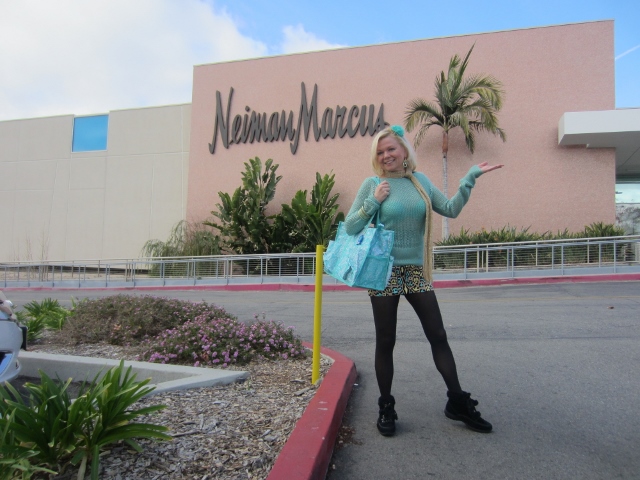 Life is too short so I say – InJOY!    Cyndi Targosz

Copyright  2014 STARGLOW Productions, Inc.
Filed under: All, Beauty · Tags: ageless, CJ by Cookie Johnson, Cookie Johnson, Cyndi Targosz, fashion, lifestyle, Magic Johnson, Neiman marcus, Topanga Mall
Find us on Facebook
Follow me on twitter
Cyndi Targosz Youtube channel
Error type: "Bad Request". Error message: "Invalid string value: 'asc'. Allowed values: [date, rating, relevance, title, videocount, viewcount]" Domain: "global". Reason: "invalidParameter". Location type: "parameter". Location: "order".
Did you added your own Google API key? Look at the
help
.
Check in YouTube if the id
CyndiTargosz
belongs to a . Check the
FAQ
of the plugin or send error messages to
support
.
The My Cyndi's Secrets Special! Shhhh!™
Special Offer for My Cyndi's Secrets Members.
© 2018 My Cyndi's Secrets