My Cyndi's Secrets » All, Celebrities, Entertainment, Events » Cheryl Hines, Kathy Griffin, Robert Kennedy Jr.,Gil Garcetti & more: Inner-City Arts Imagine Gala!
Welcome to My Cyndi's Secrets™

Embrace a joy of life -.Joie de vivre
Be the Personal Best YOU Can Be! Ooo la la!
Shhhh! My Cyndi's Secrets!
My Dear Friends,
Do you have an undiscovered talent? Today I invite you to IMAGINE. I attended the Inner-City Arts IMAGINE Awards Gala and what transpired is amazing.
Your little Cyndi Sleuth was there…………….Psssssst! Come with me!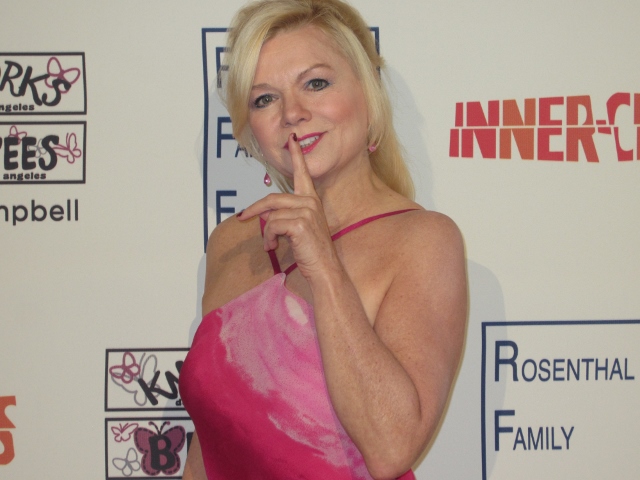 Let me share My Cyndi's Secrets!™ Shhhh!  (NEW easy comment box – Please leave your feedback at the bottom) (Photos/videography by Gator unless otherwise noted) 
Did you ever discover that you had a talent that you never knew existed within you? For example, most of my life I was certain that I was going to be a sitcom actress. Certainly I did my share of acting and modeling roles. I'm a member of the actors union SAG/AFTRA, The Television Academy of Arts & Sciences etc.   However, it wasn't until I met my literary agent through life "circumstances" that I realized that I could write. He believed in me and saw something in me that I was not aware of.  Frankly, I was not looking for a literary agent nor did I have dreams of being an author. It was an opportunity that came my way and OMG – I am so grateful that I gave it a try because I LOVE it! Within 3 years we published 5 books with three major publishers and I continue this awesome relationship with the written word which I share with YOU, My Cyndi's Secrets members –  Shhhh!™ This kind of life changing opportunity can only occur if you first take the time to IMAGINE!
That being said, I am thrilled to tell you about the recent Inner-City Arts 2013 IMAGINE Awards Gala at the Beverly Hilton Hotel.  Inner-City Arts is a vibrant arts education campus and oasis of learning, achievement and creativity for underserved children in the heart of Skid Row.  This fabulous organization gives children the opportunity to discover talents that they may never have known existed. In the way that I have come to appreciate the written word, numerous children at Inner City Arts have been able to tap into the JOY of their own creative talents. I personally think this is a great cause! Every child deserves an opportunity to discover new talents and to reach for dreams.  Even if a child doesn't become a Picasso, a Meryl Streep or an Ernest Hemingway, it matters not. It's having the ability to tap into God Given talents and develop them. Striving to be our personal best is what counts. At the very least being able to appreciate the talent of others is priceless.
Founded in 1989, under the guidance of professional teaching artists, Inner-City Arts' students engage in a variety of visual and performing art forms in a real studio setting.  Programs include core classes during the instructional day for K-8 students, afterschool and weekend workshops for middle school and high school students and creativity-based professional development training for educators.  Inner-City Arts partners with public, private and charter schools from high-need areas in and around downtown Los Angeles to provide a safe and supportive environment for children to express themselves, explore their creativity and develop essential life skills. Even the Duke and Duchess of Cambridge, Prince William and Catherine Middleton stopped by the campus for a tour during their visit in 2011.
Now let's dish about this glamorous yet so worthwhile event. I had a blast! Honorees included award-winning artist Charles Arnoldi; photographer and former District Attorney Gil Garcetti; actress, producer and director Cheryl Hines; and design innovator/entrepreneur Ralph Pucci.  Geoffrey Anenberg and Jay Mangel, Co-Chaired; Board member Eric Schotz emceed and R&B and soul music singer Maxine Nightingale and the Inner-City Arts Repertory Dance Company performed.   More than $700,000 was raised to benefit the organization and its life-changing programs for Los Angles youth. Woo Hoo!
"Each of our honorees is a wonderful role model for the children we serve," said Robert Smiland, president and CEO of Inner-City Arts.  "These four incredible individuals reflect the core values of what we teach at Inner-City Arts – self-expression, creativity and collaboration; we are so fortunate to receive support from these arts pioneers."
Cheryl Hines was honored with the Children's Advocacy Award.   Hines is a two-time Emmy nominee for her role as Cheryl David on HBO's Golden Globe Award-winning series "CURB YOUR ENTHUSIASM."  She is currently shooting and starring in the hit ABC comedy series "SUBURGATORY" and can be seen this fall in the Vuguru produced web series, "We Need Help," on Yahoo!.  In addition to creating and producing the show, Hines also directs all episodes.  She has produced and directed a number of television projects and served as executive producer and creator of the NBC television series "School Pride," a proactive, alternative series that tells the stories of communities coming together to renovate their aging and broken public schools.  The cameras followed students, teachers and parents as they rebuilt their schools.
Here is a photo and video of Cheryl and me sharing My Cyndi's Secrets! Shhhh! Be sure to click the link for the video interview.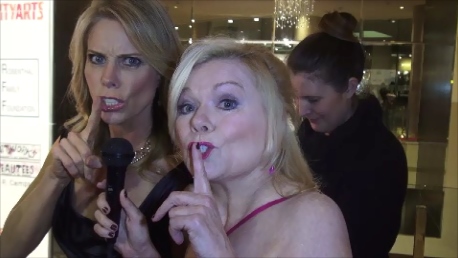 Below is a shot of me caught off guard "behind the scenes" preparing for the red carpet with some of my fellow paparazzi.  And you thought I just stood around posing and smiling all day. Shhhh! 😉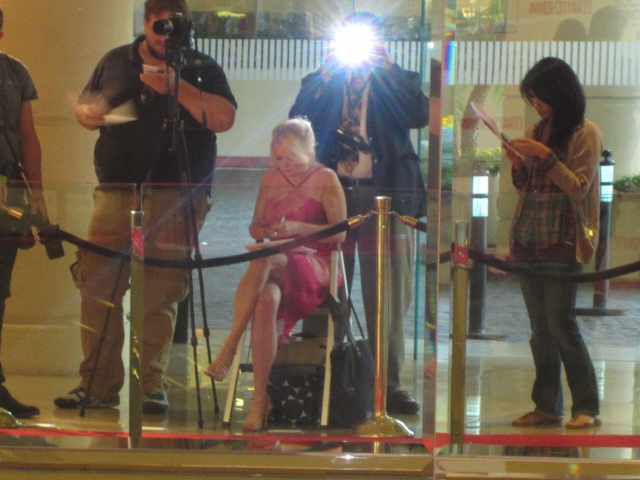 All right! All right! it's true I sometimes like to pose. Here I enjoy a quiet moment before the excitement of the event.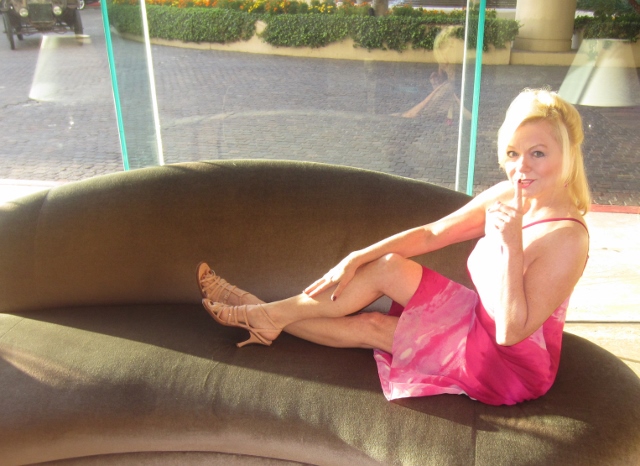 For me it was a privilege to meet Gil Garcetti who was honored with The Philanthropic Leadership Award . Since becoming a published photographer in 2002, Garcetti has had numerous solo photographic exhibitions locally and around the world including the United Nations, New York; National Building Museum, Washington, D.C.; UNESCO, Paris, France; Vienna International Center, Vienna, Austria; Beijing, China and numerous other institutions and galleries.  His seven photo books have received critical acclaim.  Garcetti's philanthropic efforts are an integral part of his legacy as a photographer. His photo book WATER IS KEY and the multiple exhibitions and talks he has given have helped bring safe water to rural villages in West Africa. Proceeds from his book IRON: ERECTING THE WALT DISNEY CONCERT HALL benefitted the Ironworkers Scholarship Fund. Garcetti spent 32 years as a prosecutor with the Los Angeles County District Attorney's office and was the elected District Attorney for eight years (1992-2000).  A frequent speaker, he is currently a producer on the hit TNT television series, "MAJOR CRIMES."
Following is a shot of Gil Garcetti looking stylish on the carpet with his Imagine Award. (Photo by Vince Bucci)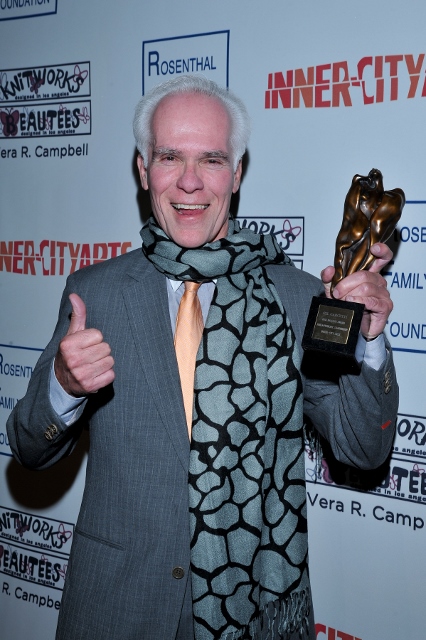 Here's what impressed me most about Gil Garcetti. He is living proof that it is never too late to reinvent ourselves and discover new talents. Becoming a published photographer was something he did much later in life. That came after a full time career as district attorney. He also has a strong message to men about defining oneself. Below I pose with Gil followed by my video interview.  Click the link to get the scoop in my interview with this highly inspirational man! Shhhh! Click the link: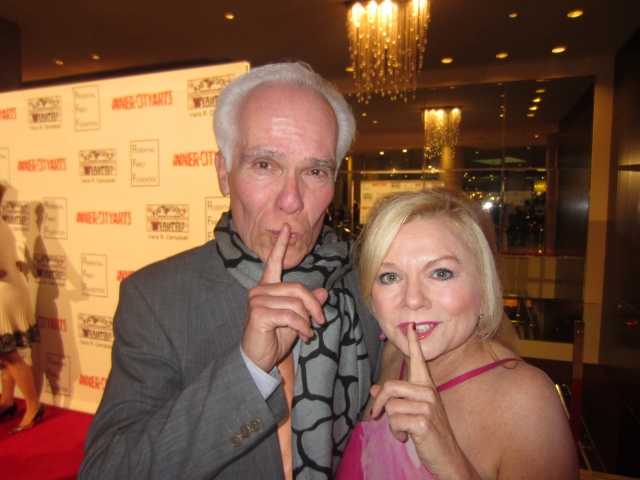 Below is a shot of three funny but beautiful ladies – Kathy Griffin (My Life on the D-List), Cheryl Hines (Curb Your Enthusiasm) and Rachael Harris (Hangover)
(photo by Vince Bucci)
I had a blast chatting with Kathy Griffin who came to the Inner-City Arts Imagine Awards in support of her friend Cheryl Hines. Enjoy this lively interview with Kathy. Click the link:
Below is a shot of co-chair Geoffrey Anenberg in the photo on the left followed by a photo of co-chair Jay Mangel and his wife Kathi. (photos by Vince Bucci)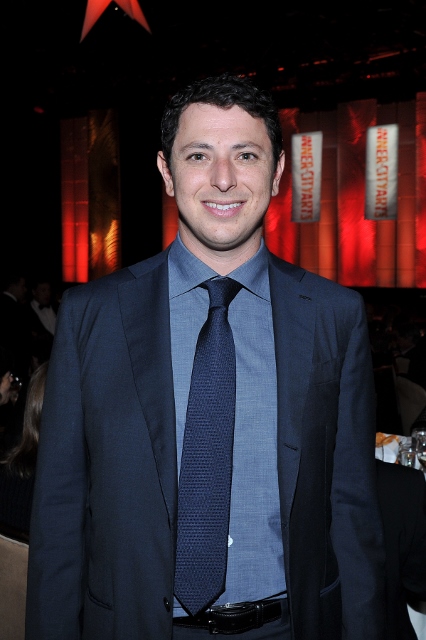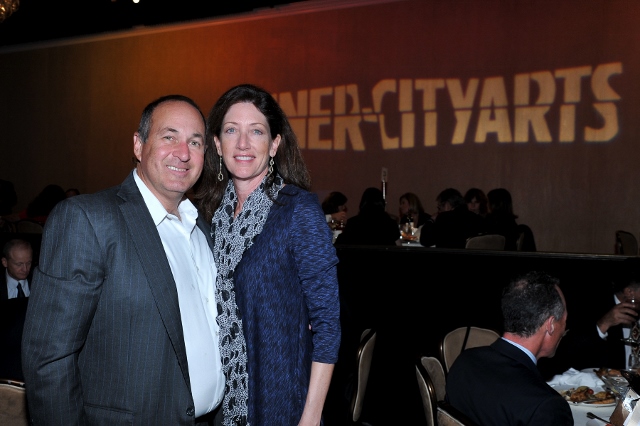 Robert Kennedy Jr. graced the stage as a presenter. The audience gave him a very warm welcome. (photo by Vince Bucci)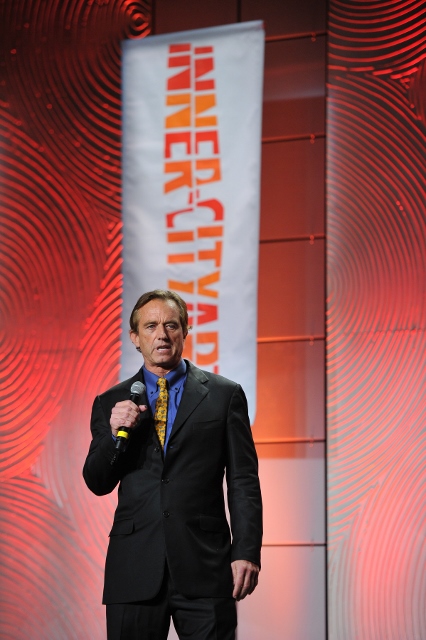 Here I have fun posing playfully with another Kennedy at the Beverly Hilton. Tee hee! 🙂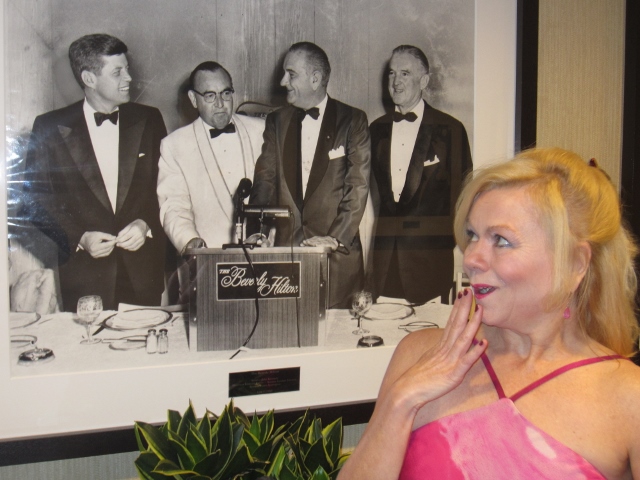 One of my most favorite interviews of the evening was with Dr. Jacqueline Sanderlin, Principal of Foster Elementary School in Compton. Dr. Sanderlin is the type of educator we wish all educators were like. She is passionate, caring, intelligent and FUN! She "is" EDUCATION and all that is good about it. And she is also a pretty good hula dancer. Now you are just going to  have to watch my interview with this lovely lady to see her in action. Dr. Sanderlin was also a presenter. I enjoyed sharing my Cyndi's Secrets with her. Click the link: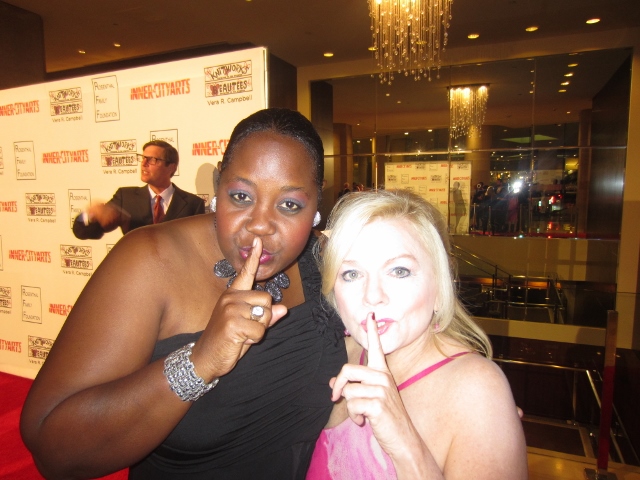 Flashbulbs are going off at the Beverly Hilton Hotel. Once again I am caught in the middle of them. LOL!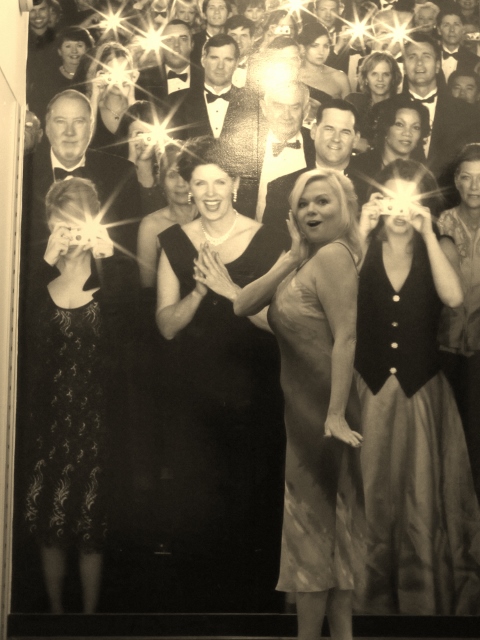 What a thrill it was to meet World-renowned artist, painter, sculptor and printmaker Charles Arnoldi. He was presented the Artistic Excellence Award. Arnoldi has had a long and distinguished career in the art world and has exhibited internationally.  His works are collected extensively worldwide and represented in museum collections including the Metropolitan Museum of Art, New York; San Francisco Museum of Modern Art and Guggenheim, Bilbao, Spain, among many others.   In the early 1970s, Arnoldi attracted attention for his wall-relief wood sculptures, holding his first solo exhibition at the Riko Mizuno Gallery in Los Angeles in 1971.  The following year he was included in Documenta V, Kassel, Germany. Arnoldi is known both for his sculptural work and for his use of vibrant colors. He played himself in the 2005 film, "SKETCHES OF FRANK GEHRY," directed by Sydney Pollack. I personally LOVE his current paintings favoring the ones entitled, "Cheverolet" and "Pontiac". Can you tell I'm a former auto show model from Detroit? LOL! Seriously though, Charles Arnoldi exudes passion for the arts. He is a humble man who also shares My Cyndi's Secrets – Shhhh! Click the link for our interview: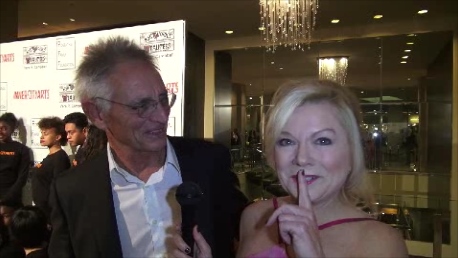 The Creative Innovation Award was presented to Ralph Pucci, President of Ralph Pucci International and a major innovator in the mannequin industry by interior and exterior designer Katerina Tana.  Pucci's vision for the future of mannequins began when he created the Action mannequins, breaking away from the old rigid form.  He reached out to fashion models, "mannequin-izing" many including Christy Turlington.  Pucci saw that mannequins and furniture could easily be integrated.  He gained the exclusive rights to the French Ecart Collection, featuring authentic reproductions of Pierre Charreau, Eileen Gray and Jean-Michel Frank, expanding collections by over 20 designers.  Pucci was selected "The Best in Furniture and Furnishing Design" by the Robb Report and "The Best Showroom" by Wallpaper.  In 2009, he was honored with the Markopoulos Award, the highest award in the Visual Merchandising Industry.  Pucci has showrooms at the Pacific Design Center in West Hollywood, as well as New York and the soon to open showroom at the Wynwood Arts Center in Miami.
Here I pose with Ralph Pucci.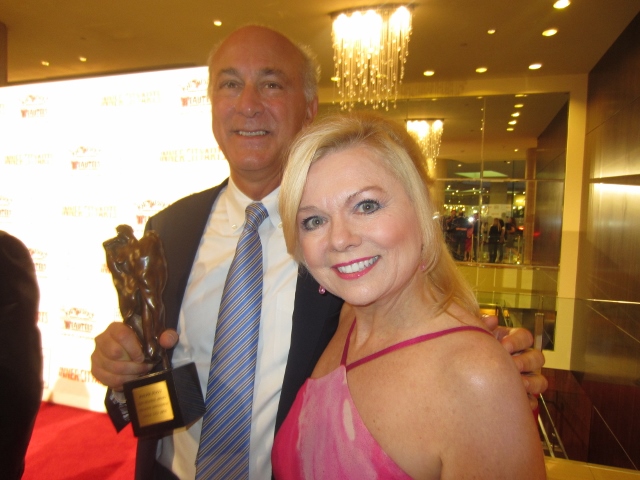 I had a blast interviewing comic, writer, actor, Dan Ahdoot (Last Comic Standing)
Click the link:
A charity event of this magnitude would not be complete without an auction.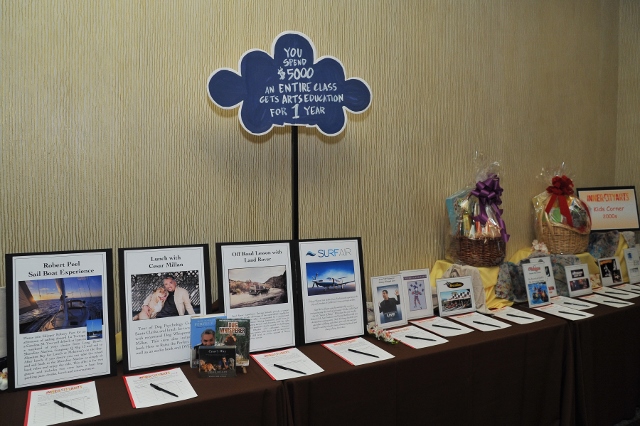 If you have an auction it is even more fun if you have a really cool auctioneer. Meet Grant Snyder. Click the link and enjoy a special My Cyndi's Secrets exclusive Auctioneer in Action video Footage. Too fun! 🙂
Below I pose in my gown at or uhhhm I mean "on" the dinner table with my donkey.  ….Just kidding !  Don't you love this creative art that served as a center piece? (Photo by Vince Bucci)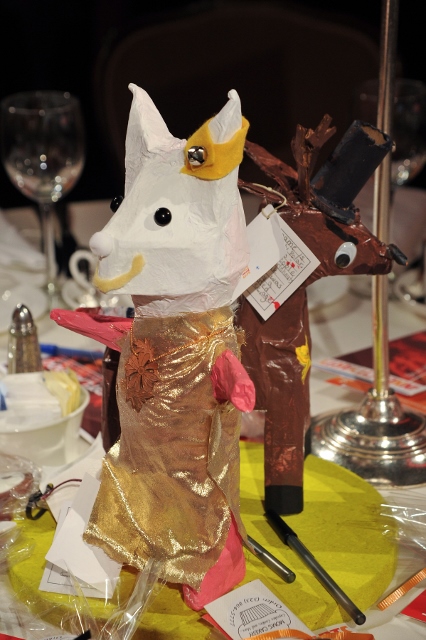 Of course, it wouldn't be a red carpet event without the opportunity to  pose on the red carpet .  I love my job!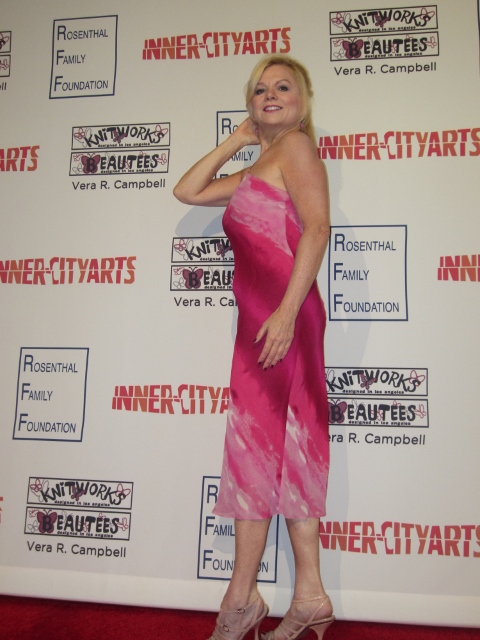 The audience loved R&B and soul music singer Maxine Nightingale (Right Back Where We Started From). Photo by Vince Bucci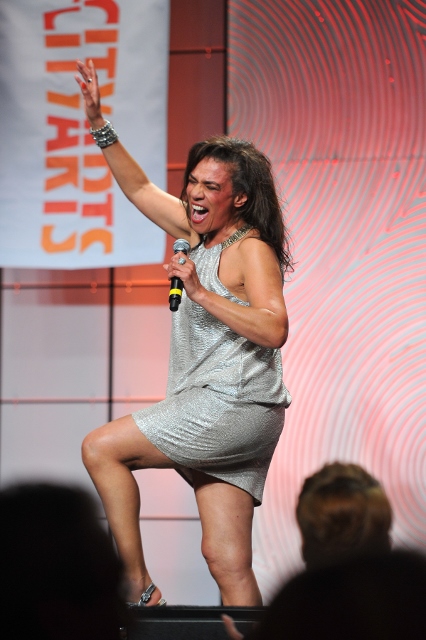 Maxine got the students, faculty and guest up and moving. Woo Hoo!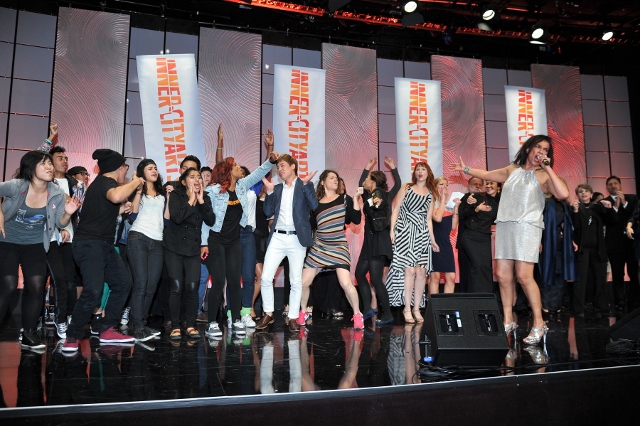 The stage lit up when the Points of Light teaching faculty appeared. (photo by Vince Bucci)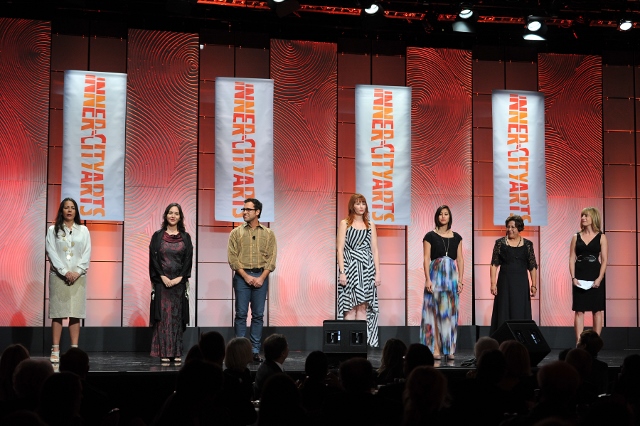 Applause! Applause! A good time was had by all and for a good cause.(photo by Vince Bucci)
Sooooooooo that takes me back to YOU my dear My Cyndi's Secrets- Shhhh™ members! Our mission is to find and share JOY worldwide.. With today's event in mind I have to ask you – Is there a child you know who could use your encouragement in the arts? Do you have a talent or skill that you have not discovered yet? Perhaps Inner-City Arts can offer a lesson for us children of all ages.  Do you dare to IMAGINE?!
Thanks for  being a My Cyndi's Secrets®-Shhhh™  member! I say, share the JOY! To learn more about The Inner-City Arts please visit www.inner-cityarts.org
And until next time……….Strut your stuff on the red carpet of life! Shhhh!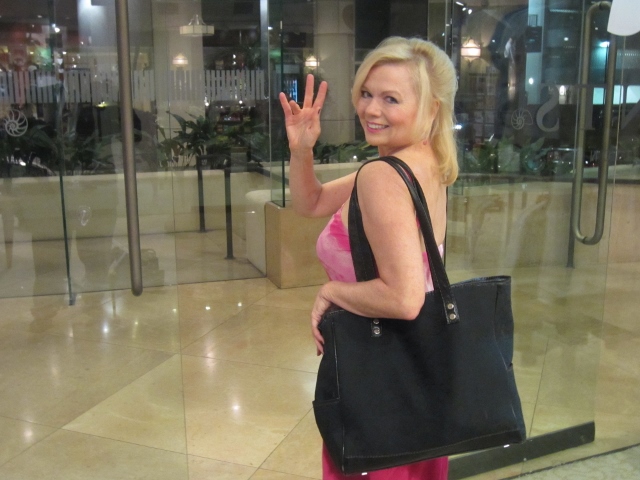 (31 Organizing Utility Tote in photo available at www.MyThirtyOne.com/HelpingOthers )
Life is too short so I say – InJOY!
Cyndi Targosz
Copyright  2013 STARGLOW Productions, Inc.
Filed under: All, Celebrities, Entertainment, Events · Tags: ageless, body image, Charles Arnoldi, Cheryl Hines, Cyndi Targosz, Gil Garcetti, Kathy Griffin