My Cyndi's Secrets » All, Interviews » Martin Sheen, Nigel Lythgoe – Celebs speak from the heart at The Friendly House Awards!
Welcome to My Cyndi's Secrets™

Embrace a joy of life -.Joie de vivre
Be the Personal Best YOU Can Be! Ooo la la!
Shhhh! My Cyndi's Secrets!
My Dear Friends,
It was a little over a year ago when we got the news that superstar singer/actress Whitney Houston had passed on. The official Medical Examiner's report showed that she had accidentally drowned in the bathtub, with heart disease and cocaine use listed as contributing factors. Her death occurred the night before the 2012 Grammy Awards while preparations were being made for a swanky party at the Beverly Hilton Hotel. The entertainment industry was saddened as were her legions of fans. This heart break was about a beautiful woman and a great talent whose life ended way too soon and so tragically. Whispers of drug and alcohol abuse tainted her memory. RIP Whitney!
Contrast that to today in 2013. I stood once again at that same Beverly Hilton Hotel. The red carpet was set and lights were flashing for yet another Hollywood glamorous event. However, I couldn't help but think of that night when Whitney died. This time it was different. Oh sure the hotel was swarming with celebrities and corporate tycoons. Everyone knows the entertainment industry loves a good party. However, now the whispers of drug and alcohol abuse turned to praises of the JOY of drug and alcohol abuse RECOVERY.  Let me tell you about The Friendly House LA and how the 24th Annual Awards Luncheon celebrates people who inspire, save lives and create positive change!
Your little Cyndi Sleuth was there…………….Psssssst! Come with me!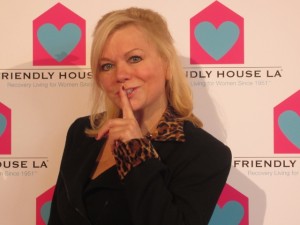 (Photos/videography by Gator unless otherwise noted)
Let me share My Cyndi's Secrets!™ Shhhh!
(NEW easy comment box – Please leave your feedback at the bottom)
Friendly House Los Angeles is the first home in the country for women recovering from alcohol and drug abuse. The more I learned about this organization and the people involved, the more I wanted to share their great cause with you. I indeed feel privileged to have taken part in this amazing event.
Friendly House is considered an excellent model for recovery homes in the United States and Europe. The organization has treated thousands of women with a success rate of 76% compared to the hospital average of 35%. Friendly House is solely supported by private donations and grants and by the fundraising efforts of the Board of Directors, Grateful Hearts (former residents of Friendly House).  These people are amazing and deserve the recognition. The afternoon was indeed special.
The renowned Martin Sheen (The West Wing, Wall Street) showed up in support of his good friend Earl Hightower of Hightower Associates. Earl received Friendly House's "Excellence in Service" award. For nearly thirty years Earl has worked on the front lines of addiction treatment as a professional interventionist. This man is highly regarded on an international level. He has conducted over 2000 interventions and now instructs and supervises qualified individuals on the art of intervention. His unique perspective on behavioral health intervention helped him to recognize the greatest gap in addiction services is during the first 60 days post residential treatment, causing patients to relapse. As a result, the focus of Hightower's work has been to develop systems and strategies that support his clients in their goal of achieving a lasting connection to recovery.
Below is a photo of Earl Hightower posing on the carpet with his well deserved award followed by a shot of Martin Sheen giving accolades to Earl during the luncheon. (Photos by Vince Bucci)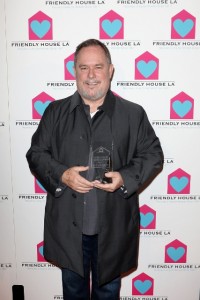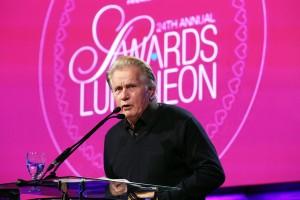 Below is a shot of Martin Sheen (l), me (c) and Earl Hightower (r) sharing my Cyndi's Secrets.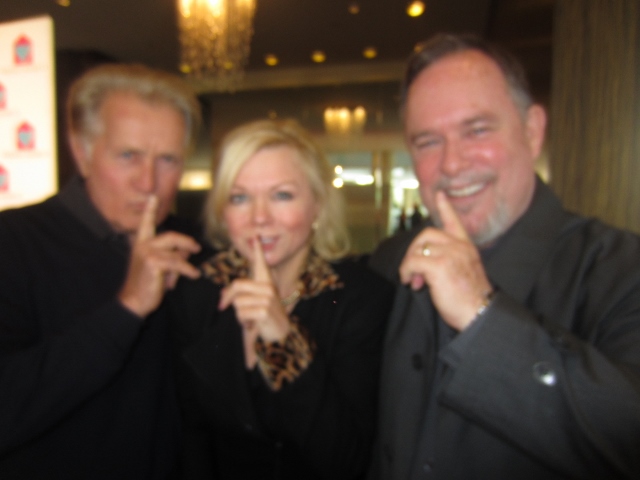 Lest you think the evening was all serious stuff – think again? Please enjoy the cool interview I had with both Martin and Earl on the red carpet. These two guys are FUN and INSPIRING. This is one of the most touching My Cyndi's Secrets® interviews from the heart I ever had. Shhhh! Click the video link:
Viola Davis and media mogul Sumner Redstone (pictured below) served as Honorary co-chairs. Peggy Albrecht and Michael Hollingsworth co-chaired. (Photo by Vince Bucci)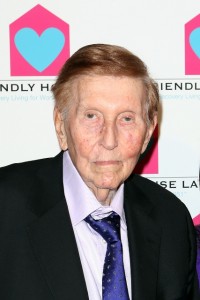 Shhhh! Here are a few Cyndi Sneak peek photos behind the scenes "before" the event as the Paparazzi sets up followed by an overview shot of the red carpet "during" the event!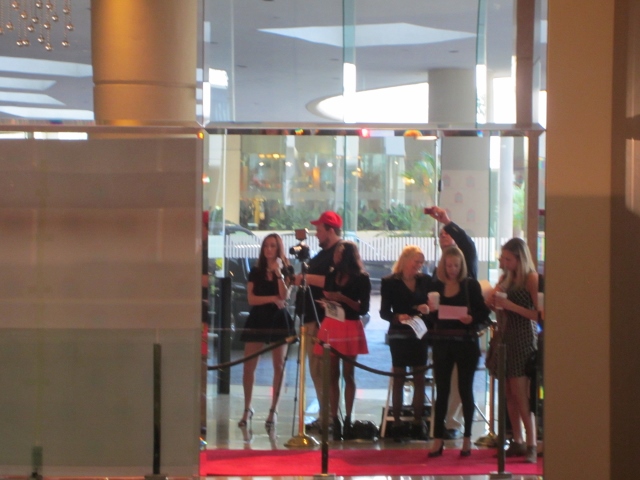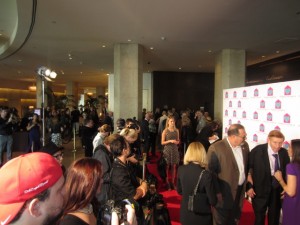 Renowned philanthropist and CEO of Rich Hippie Productions, Sydney Holland was presented the "Woman of the Year" award. Holland has been an advocate and active supporter of Friendly House LA for years as well as many other major charities.  She serves as Executive Producer on her companies first feature length film helmed by celebrated indie director Michael Polish, starring Kate Bosworth and Wes Bentley. Holland also Co-Executive Produced alongside Morgan Spurlock and Nigel Lythgoe the documentary film Dancing in Jaffa, to be theatrically released in early 2014.
Below is shot of the lovely Sydney Holland on the red carpet followed by a shot of Nigel Lythgoe. (Photos by Vince Bucci)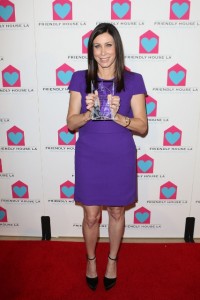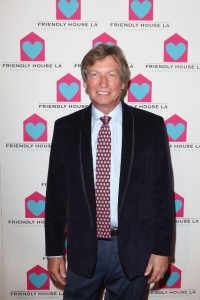 I had the opportunity to spend some time chatting with Nigel Lythgoe. See photo below.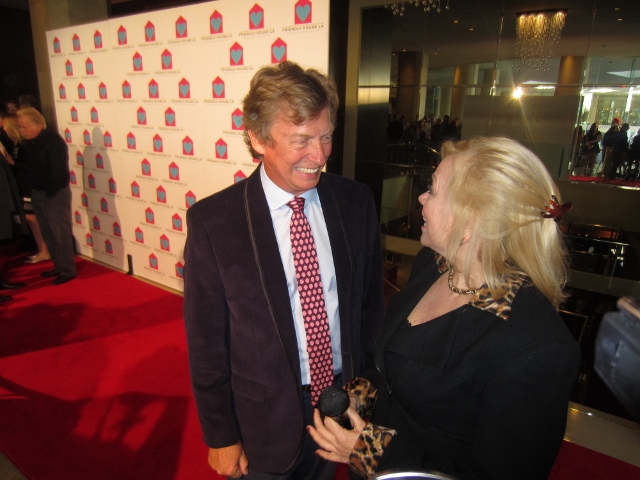 Nigel came to the event in support of his friend Sydney Holland. Many people know Nigel from his role as the popular judge on "So You Think You Can Dance". However, Nigel is even cooler in person. Find out about his interesting background and of course listen to him share, My Cyndi's Secrets – Shhhh! ™ Click the video link:
On a fun note -The Beverly Hilton Hotel is famous for its celebrity clientele and rich Hollywood History. At any given moment in time you can find flashbulbs going off. I feel that I fit right in the photo below. LOL! What do you think? 😉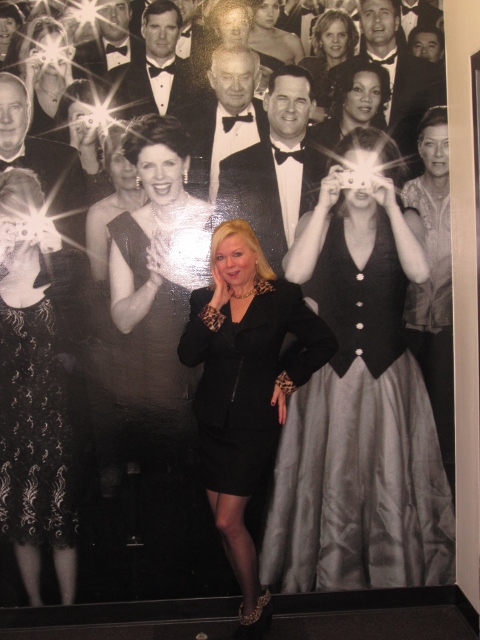 Another celebrated man of the night is Winn Claybaugh pictured on the carpet in the next photo. (Photo by Vince Bucci)
If you don't know the name Winn Claybaugh – you should! He was presented the "Humanitarian of the Year "award. He is the founder and co-owner of hair care giant Paul Mitchell's schools. Today, over 100 Paul Mitchell Schools inspire confidence and success by providing opportunities for students to develop their skills while exploring their creative and professional possibilities. Claybaugh is also the author of  Be Nice (Or Else!), the best –selling book that outlines the culture and philosophy  practiced by every Paul Mitchell School. As a speaker, consultant and facilitator of thousands of seminars, he has helped countless businesses build their brands and create healthy, safe, and loving workplace cultures. A self taught entrepreneur, his successful business model became the new industry standard that restored integrity in the beauty school industry. Under his leadership, the Paul Mitchell Schools annual "FUNraising" campaign has raised over $11.2 million for numerous charitable organizations.
OMG – Winn truly is a "WINN-er" in my book! Here is a shot of Winn & me at the event .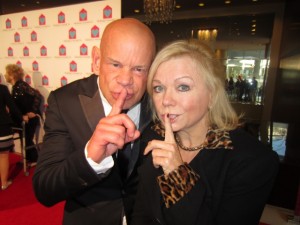 Please enjoy my interview with Winn. I was most struck by his humbleness.  You also have to find out why he playfully said, "Who's Your Daddy?" tee hee! Click the link:
Winn Claybaugh was presented his award by Carrie White. She is a celebrity hairdresser and bestselling author of the book, "Upper Cut".  I had a delightful conversation with this ageless and beautiful  hair rock star.  Click the video link below for our fun interview. Shhhh!
I had fun posing on the red carpet too. What's new? LOL!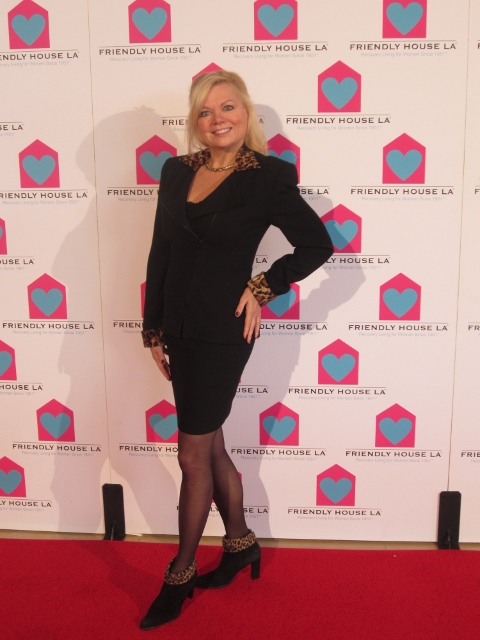 Actress Jennifer Bassey (Grey's Anatomy) graced the Friendly House event with her presence.  I pose with her in the next photo.
Gorgeous Katherine Bailess (VH1's Hit the Floor) added her support to this great cause. Here we pose together.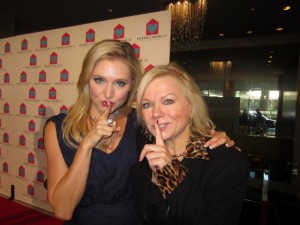 Please enjoy our fun interview.
Taking a moment for myself at the Beverly Hilton, I pose in front of the pool. Ok – I'm really thinking, "hmmm – I wish I was in my swimsuit!" LOL!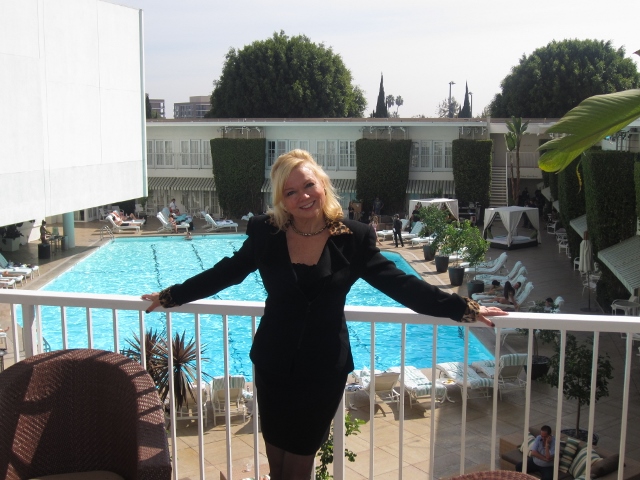 Friendly House Board of Directors President, Bill Cunningham spoke at the event followed by Friendly House Executive Director Peggy Albrecht.  I was blessed to spend some time chatting with this awe-inspiring woman. Albrecht has first-hand knowledge of what it is like to rise from the depths of alcoholism. Her own sobriety began over 42 years ago. Through tenacity, hard work and sobriety she has devoted her life to the service of others. "I have seen thousands of women come in and out of our facilities doors. I can't tell you how gratifying it is to watch so many of our former residents building happy, successful lives knowing that we had a part in constructing their foundation", said Albrecht. "Our organization is blessed to have such extraordinary and dedicated supporters. We are honored to celebrate each of these remarkable individuals for their generosity, commitment and myriad contributions to our community."
Following is my interview with the gracious Peggy Albrecht. She sincerely touched my heart with her passion for this cause. Please click the link for our interview:
God bless you Peggy Albrecht and all the good people who made the Friendly House Awards Luncheon such a huge success! Thanks for showing My Cyndi's Secrets® members the "good" side of Hollywood. I say, share the JOY! To learn more visit www.FriendlyHouseLA.org
And until next time……….Strut your stuff on the red carpet of life! Shhhh!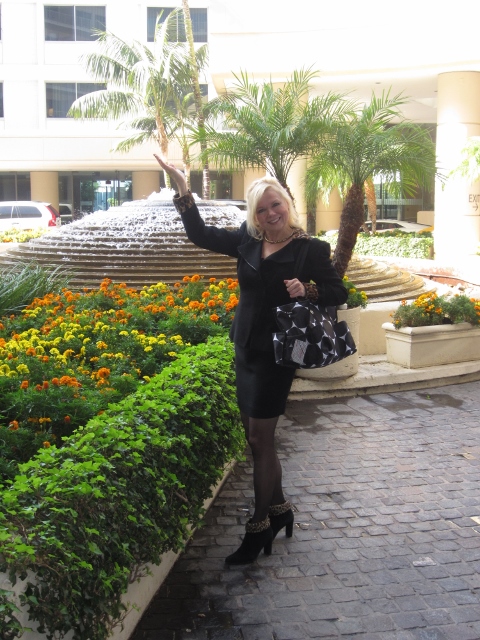 (31 Organizing Utility Tote in photo available at www.MyThirtyOne.com/HelpingOthers )
Life is too short so I say – InJOY!
Love ya,
Cyndi Targosz
Copyright  2013 STARGLOW Productions, Inc.
Filed under: All, Interviews · Tags: ageless, Bill Cunningham, body image, Carrie White, Cyndi Targosz, Earl Hightower, Jennifer Bassey, Martin Sheen, Nigel Lythgoe, self esteem, Sydney Holland, Winn Claybaugh