My Cyndi's Secrets » All, Celebrities » Melissa McCarthy (Bridesmaids)- What's the "BIG" Deal?!
Welcome to My Cyndi's Secrets™

Embrace a joy of life -.Joie de vivre
Be the Personal Best YOU Can Be! Ooo la la!
Shhhh! My Cyndi's Secrets!
My Dear Friends,
If you haven't seen it yet take a look at this months cover of ELLE magazine.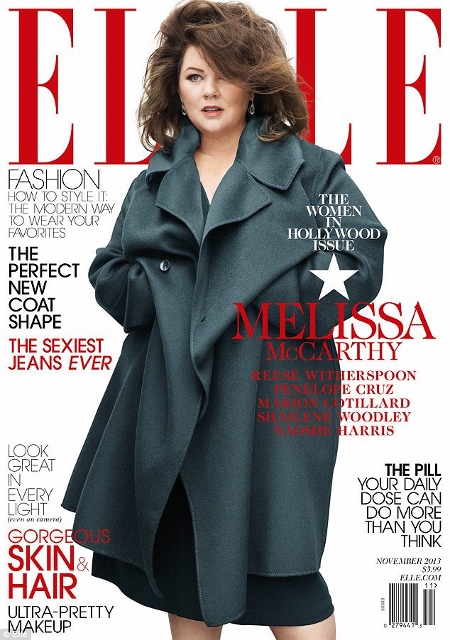 DOES THE COAT BOTHER YOU??? Everybody is talking about  BRIDESMAIDS star Melissa McCarthy because she posed on the cover of ELLE  magazine in a coat. The controversy is that some people think she wore the coat to cover up her body. However at the recent ELLE women in Hollywood awards event Melissa told E NEWS that, "What I found so bizarre is I picked the coat," McCarthy told E!. "I grabbed the coat. I covered up. I had a great black dress on but I thought, it comes out in November."   "I was so sick of summer. I live in Southern California..Give me a big coat to wear. Give the girl some cashmere!'"
 Here I pose with the lovely Melissa McCarthy. When I chatted with her at a recent event we talked  briefly about "weight" issues.  I was impressed by the  confidence she exudes. She appears to have a comfort with her own body image that seems healthier than some of the super thin models I have met.  BEAUTY truly does comes in all different shapes and sizes.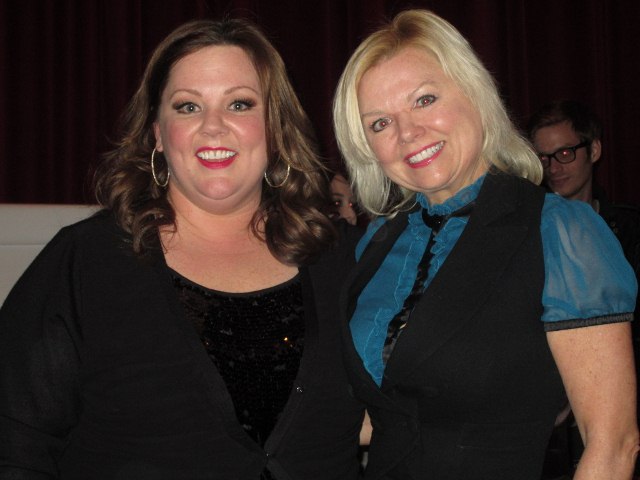 So back to the cover of ELLE. Would any of us  have made a fuss had the cover included a traditionally thin model in a coat? I hardly doubt it. Now I don't condone people overeating with the guise of an "I don't care – this is me!" attitude. The fact is each of us has a unique body with its own set of challenges and needs that have to be met to stay healthy. I always promote living a healthy lifestyle. However, achieving health and fitness goals can be very challenging. Melissa  gave me the impression that she values the importance of trying to live a healthy lifestyle. I applaud her for embracing her fuller figure. No woman should ever be defined by the size of her waist.
Melissa – You look gorgeous in your beautiful fall coat….. and YES – it is a "BIG" deal because you did what makes YOU feel your personal best and I applaud you!  Shhhh! My Cyndi's Secrets! InJOY! Cyndi Targosz
Filed under: All, Celebrities · Tags: ageless, body image, Celebrities, Cyndi Targosz, Diet, ELLE, Entertainment, lifestyle, Melissa McCarthy