My Cyndi's Secrets » All, Events » Chat with Cyndi
Welcome to My Cyndi's Secrets™

Embrace a joy of life -.Joie de vivre
Be the Personal Best YOU Can Be! Ooo la la!
Shhhh! My Cyndi's Secrets!
My Dear Friends,
Pssssst! Don't tell anyone but I want to talk to YOU one-on-one. That's right – a chat just between you and me. You are cordially invited to a
PRIVATE ONE-ON-ONE "
CYNDI CHAT
!"                                                           
TALK 2 ME ABOUT ANYTHING!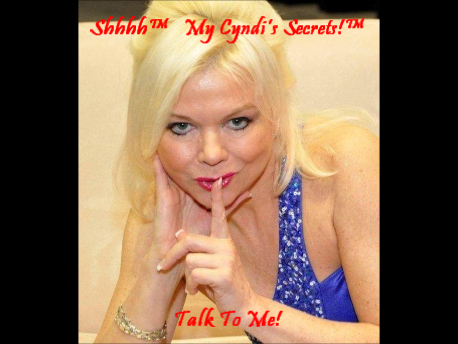 Nobody has got it easy. These are tough times. Sooooo – Let's talk.  Let me help you Kick Start your goals. Book your life coaching consultation time at the My Cyndi's Secrets Chat Rate Introductory special of just $15.00 for 15 minutes! (phone or skype) BTW- NEW celebrity clients can also take advantage of this special rate! I heart ALL My Cyndi's Secrets members. Shhhh!
To schedule or for more info please e-mail: Cyndis-Assist@starglowonline.com
Buy Now and my assistant will contact you within 24 hours to schedule:
Here's a Sampling of What You CAN begin to Discover in your 15 Minute Kick Start Cyndi Chat:
Why Your Pick-Up lines don't work?
How to get HIS attention?
My TOP SECRET fitness "breathing move" guaranteed to help you breathe yourself slimmer.
Fashion advice about what to wear on a special occasion?
How to Cope with loss of a job.
How to finally conquer your body image and/or self esteem issues.
How to develop "REAL" life stress management skills that take you beyond saying, "ohhhhhhhhhmmmmm"
Dealing with Dating after Divorce.
What is the best way to lose that extra girth in the middle?
Diet questions that trouble you.
 How to make your profile more appealing for the online dating sites.
Proper Fitness techniques.
Sharing Giggles!
And sooooooo much more………………………………
I have received numerous requests from My Cyndi's Secrets members seeking my life coaching expertise. Many of you ask me questions all the time on an incredibly wide range of topics. In 15 minutes you may not solve all the problems of your world but it's a perfect NO-NONSENSE KICK START!!! 
Sometimes we all just need a listening ear. It helps to have someone ask you questions that get you thinking from a different perspective. This can help you figure out a direction that is best for YOU! It's good to talk to someone who is not bias and does not have a personal agenda. What are you waiting for? You deserve to FINALLY talk to someone who cares and is not going to judge you. Besides, you can count on a Cyndi Chat to be informative, compassionate and of course FUN! Our conversation is strictly private and confidential. Here is how it works:
1) E-mail my assistant: Cyndis-Assist@starglowonline.com for instructions.
2) Prepare one "specific" question or a maximum of two "specific" questions about ANYTHING! (We will address both of your questions if we have chat time left)
3) Let's Cyndi Chat via phone or skype in the U.S. and via Skype internationally. Shhhh! 🙂
BUY NOW and my assistant will contact you within 24hrs to schedule a Cyndi Chat:
"When I created one of America's most popular online dating sites, DivorceDating.com, I turned to some of the world's leading experts including Cyndi Targosz. It's a privilege to have Cyndi serve as a celebrity image consultant on the founding board of expert advisers. Her life coaching skills are unique in that Cyndi can successfully help clients improve BOTH the inside and the outside in their makeovers – a plus for success in dating and in life."
~Vikki Ziegler, Celebrity Divorce Attorney and CEO of DivorceDating.com
VikkiZiegler.com
"People assume that just because someone is "pretty" or "successful" that life is perfect. Cyndi understands that nobody has it easy! Her down to earth expert advice can help you deal with body image, self esteem, dating dilemmas and any number of life issues. Through it all, she is so much fun that your problems become more manageable. Cyndi speaks a gentle truth that can help you discover your path to winning results! "
~April Sampson- Playboy Model
Owner of OrangeCountyPermanentMakeup.com – "Look Better, Feel Better"
"Cyndi Targosz ( My Cyndi's Secrets ) excels at helping celebrities think, look and feel their personal best by using her M.B.S System (mind, body, spirit)! Whether she is interviewing the famous on the red carpet, or helping them deal with image issues of body, fitness, diet, beauty and fashion in private consultation; she is fun warm and informative and gets results."
~Cynthia Romo
Three Time Emmy Winner (Dancing With the Stars)
CynthiaRomo.com
"Cyndi is a constant source of fun, joy and inspiration. Her fresh positive attitude about life is infectious. Start your day with Cyndi Chats and your day will be off to a great start."
~William Gladstone, author of The Twelve.
"I learned early on that sight is beyond what one can see with the naked eye.  In the same way, so is beauty. Upon receiving a standing ovation at age 5, although I did not know what the standing meant, I could see that they were smiling, exuberant and happy. I knew at that moment, sharing the gift of performance would help make people happy.
Making people happy and helping them to be their personal best is the trademark of Cyndi Targosz. An expert in the field of Body Image and Self Esteem, I have been witness to Cyndi's work helping others, both in professional contact and through seminars. With an experienced and caring heart she has the ability to put her clientele at ease while centering in on their individual needs.  I am most pleased to add my name to a growing list of those endorsing Cyndi as she offers her expertise in self improvement to those who would seek her wealth of knowledge with the mastery of image."  
~Schatar Saphira, MTV Reality Star as "Hottie", Celebrity Actress, Award Winning Vocalist, Producer
"Hi Cyndi!!! I felt the joy and knowledge light up our living room last evening during the Cyndi chat. I can recommend for everyone. It was awesome to video chat with you Cyndi and to learn from your great knowledge and experience. You gave me really something think about when it comes to the breathing technique (for exercise). I have for a long time been thinking about the breathing technique, but not like you teached me yesterday. Thank you sooo much for your help Cyndi and for the opportunity to meet you in a video chat on skype. hugs from Geir." 
~Geir Roar Kristiansen
Trondheim, Norway 
Cyndi Targosz ………"can help you with a great introduction to the issues of body image and how you can live a happier, healthier life."
Nia Peeples ~ Actress
Star of ABCTV's "Pretty Little Liars"!
"Cyndi Targosz (My Cyndi's Secrets) is that rare individual whose expert advice crosses all demographics, socioeconomic boundaries and is embraced by both men and women! She incorporates her M.B.S. System™ (Mind, Body, Spirit) into every consultation session and program that she develops. Whether Cyndi is helping a young man develop the dating skills it takes to "get the girl" , sharing a beauty secret or helping a woman with poor body image become confident, she is compassionate, fun, knowledgeable and can help her clients discover their personal surefire plan of action to create balance in life."
~Dr. Belisa Vranich ~ Clinical Psychologist, author, media personality
TheBreathingClass.com
To book your $15 dollar skype/call time slot or to get more information:
BUY NOW and my assistant will contact you within 24hrs to schedule a Cyndi Chat:
"Two weeks or so before Thanksgiving of 2009 I experienced discomfort from what I was sure was an abs pull. I found out I had completely torn my groin muscles from using too much (too heavy) weight. I had weeks of inactivity after surgery. I found Cyndi Targosz On line and began to inquire into her knowledge of a good recovery program. I was told my injury was one which would re-appear within months if I did not adhere to a strict recovery program. I had corresponded with Cyndi on some health issues, but I was about to ask her for help in a big way with this recovery!
At about the middle of January of 2010 Cyndi and I began a lengthy (online) discussion on what I was going through. Cyndi led me to the My Cyndi's Secrets pages of her online help pages. She and I talked (online) at length about possible answers from her "Ten Minute Tone-up's For Dummies" Book, and how different chapters might help me along the recovery trail! Cyndi was all help… and I mean that wholeheartedly! She encouraged, step by step, and even offered .(professional) .instruction to get me through the tough times!!! I cannot think of any person I can endorse more than Cyndi Targosz! You are….young lady, the most helpful….most influential and most positive influence… that any person can have! Thank you Cyndi… from the bottom of my heart!!!!!!"
~Bill Kennedy
Lincoln Park, MI.
Andrea Nobile Westfall "….Cyndi gives women of all ages the tools for finding their own way toward self-confidence, happiness, and ultimately love."
~Andrea Nobile-Westfall,
The Macomb Daily, Michigan
"Cyndi Targosz is at the top of her game, and she'll show you how you can get there too. She's all about dating, body image and self esteem, because she lives it. She's knowledgable, personal, funny and completely non-judgmental. A winning combination when it comes to choosing a coach."
~Gayl Murphy,The "Celebritizer" Media & Presentational Coach
InterviewTactics.com
Jeff Mazzotti:
"Cyndi Targosz was extremely instrumental in helping me to write my online profile for the dating sites. I provided her with my original profile which was getting very little response from the ladies. I am not a writer and I knew that something was missing. Cyndi "listened" to what I wanted to communicate and did not "change" the information but rather made it a better representation of who I am. The amount of women that respond to my profile has increased significantly thanks to Cyndi.  
Working as a computer geek for a major electronics/entertainment company, I can't say that I understand the female mind completely. However, Cyndi Targosz has given me great insight into helping me understand, not only women, but myself better. We began working on my exterior using her results oriented fitness/diet tips, discussed dating issues and in the process I discovered more about myself which ultimately is the answer to everything. Don't let Cyndi's cute bubbly blonde exterior fool you. This woman is smart. I highly recommend Cyndi Targosz."
~Jeff Mazzotti
Sherman Oaks, CA
Laura Varon Brown: "Cyndi Targosz's energy is a marvel for women at any stage in their lives. Her passion for self-empowerment is bound to help women not only in love, but also in life. Cyndi's unflinching words…….help to dispel negative stereotypes of women. … (a woman) emerges with the tools to be true to herself along with the courage to follow her heart."
~Laura Varon Brown, Editor
Twist Magazine, Detroit Free Press
"About a year and a half ago I needed to restructure my fitness routine.  I've been acquainted with Cyndi Targosz
over the years and have purchased many of her videos.  I was able to contact Cyndi directly.  She is so openly accessible to anyone seeking her council. Intelligence, compassion and a sincere desire to help are Cyndi's attributes.  Just being back on board with her again to keep me on track is great.  Thank you Cyndi for all the good you do and keeping us reminded to live "in-joy". "
~Mona Tḕlor (author)
kaseysbooks.com
"I've worked with talented Cyndi Targosz for a number of years and she's great! Her wonderful fun upbeat manner, talent, plus her superb knowledge of lifestyle, fitness, fashion and beauty make her shows a programming plus for any kind of radio, TV or live presentation format."
~Gary Owens, Star of Rowan & Martins Laugh-in
My Personal Guarantee:
All "Cyndi Chats" Include a Big Dose of JOY!!!
(You Deserve to be Happy!)
In the past, my consulting time has been limited to talking to Hollywood celebrities who pay hundreds of dollars to get my advice. Now please don't get me wrong. I LOVE the actors, models, playmates and other celebrities that share My Cyndi's Secrets.Shhhh! It's just that I am passionate about ALL My Cyndi's Secrets Members. I love that we are an international group that crosses all demographics and socioeconomic boundaries. We are a feisty and fun bunch connected by a spirit of JOY ! That's why I wanted to do something that gives EVERYBODY an opportunity to connect with me on a more personal level. After the HUGE success of our recent Cyndi Chat Special, I knew this was an important opportunity to give back to all of you who are so good to me. You see, I'd like to chat with YOU! So, I have reserved a limited amount of 15 Minute Cyndi Chats each month. Normally my celebrity clients pay up to $300.00 an hour for my advice. If you respond quickly, you can chat with me at the
My Cyndi's Secrets Chat Rate introductory special of just $15.00 for 15 minutes. BTW- this offer is also available to NEW celebrity clients. I HEART all My Cyndi's Secrets members!!!
                  Rather than paying $300.00
*Chat with me for $15.00!*
I'm sooooo excited to share this unbelievable My Cyndi's Secrets Chat Rate Special!! You can talk to me for 15 MINUTES FOR 15 DOLLARS! We can talk about anything! I know! I know! My "people", as I lovingly say. think I'm crazy but I don't care. I sincerely want to connect with you. Lots of awesome things are happening and without YOU there is no My Cyndi's Secrets! I'll dish more about all the cool stuff that's happening at a later time! I'm not supposed to talk about it. tee hee! …… 🙂 I'm just saying that thanks to YOU, I am able to have a livelihood that I am passionate about. You bring me JOY! I heart you and thank you!
To book your $15 dollar time slot or to get more information:
Contact my assistant at cyndis-assist@starglowonline.com More details will then follow.
BUY NOW and my assistant will contact you within 24hrs to schedule a Cyndi Chat:
U.S. members can connect with me via the phone or SKYPE. Our international members can connect with me via SKYPE. This is going to be fun, warm, and informative! So – Let's have a Private One-on-One CYNDI CHAT!!!                                                                                                                               e-mail my Assistant at       cyndis-assist@StarglowOnline.com
PS. There are also special rates if you need more time to Cyndi Chat.
P.S. Group rates are also available if you and a friend or friends wish to share the same time slot!
I Care about YOU! Let's have a PRIVATE ONE-on-ONE "CYNDI CHAT!" Shhhh!
InJOY!